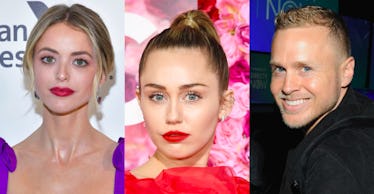 Spencer Pratt Claims Miley & Kaitlynn Reportedly "Had A Thing" Before Kaitlynn's Breakup
Getty Images
Just when you thought there couldn't possibly be any more drama regarding this new reported couple, Spencer Pratt's quote about Miley Cyrus and Kaitlynn Carter's rumored relationship claims that the two reportedly "had a thing" while Carter was still with her ex Brody Jenner and while Cyrus was still with her ex Liam Hemsworth. (Elite Daily reached out to reps for Cyrus, Carter, and Jenner, but did not hear back in time for publication.) Pratt shared his characteristically unfiltered thoughts in a recap of The Hills Episode 10 for Cosmopolitan on Sept. 3.
"It's tough for me to listen to Kaitlynn complain about people talking about her allegedly open relationship with Brody when we know she had a thing going with Miley," Pratt told Cosmopolitan. "She already had something going on with her when these scenes were filming — maybe not physically, but definitely emotionally. No one's judging you for whatever it is you and Brody do when he's not sleeping in his car. We just don't want people to lie about their lives."
And that's not where he stopped. Pratt also went on to claim that Jenner has reportedly been openly discussing his sex life on his podcast, The Brody Jenner & Dr. Mike Dow Podcast, "for years."
"Maybe you shouldn't have gone on television. It's called a reality show, hon," he said to Cosmopolitan. "And the reality is that Brody's been talking about your sex life on his podcast for years."
He also took a stab at Carter's reported quotes about her relationship with Jenner. "My favorite is when she's like, 'Brody and I were wild, young, crazy kids,'" he told Cosmopolitan. "Was that last week? Because you and Brody have only been together a minute. Are you older and more mature now that you're chilling on Miley's yacht?"
While Pratt seems to have some super hard feelings against Carter, Jenner has made it clear on social media that he's cool with his ex. Jenner took to Instagram on Aug. 17 to defend his ex in a since deleted post.
"There is far too much negativity being directed at someone who I love and care about very much. I feel the need to set the story straight. Kaitlynn and I have been best friends for 6 years, and we continue to be," he wrote. "We, like many others before us and many after us, grew in different directions over those same 6 years. Kaitlynn is a wonderful person, beautiful and fun to be with, always a positive force in my life. We decided the best move for both of us was to keep our love for each other strong but move forward separately with our lives. I respect Kaitlynn and care deeply about her. She deserves to be able to move forward in her life with respect and happiness."
Carter responded with a simple red heart.
Since that post, Jenner took to Instagram another time to share his fondness for his ex by posting the weed bouquet Carter and Cyrus got him for his birthday. Jenner noted that the bouquet was from his "favorite company of all time" and that Carter and Cyrus really "stepped it up on this one."
So, yeah. It seems like the three of them are on good terms, no matter what went down in the past.