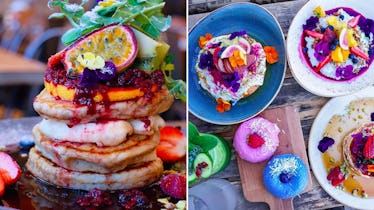 This Colorful Cafe Has Insta-Worthy Food You'd Never Know Is Vegan, Gluten-Free, & Dairy-Free
I don't know about you, but whenever I think about food that's gluten-free, dairy-free, or vegan, my mind automatically decides that the food won't taste as good as what I normally eat. But when I visited New South Wales, Australia earlier this year, a restaurant experience completely changed my mind. Speedos Cafe in North Bondi has Insta-worthy food that's gluten-free, dairy-free, and vegan — and it seriously tastes better than you would ever believe.
Although most of their menu is gluten-free, dairy-free, vegan, or some combination of those, if you just ordered something without reading the notations on the menu, you'd probably never know. The menu items are in the most eye-catching colors that'll surely make your mouth water. From the summer coconut bowl to the turmeric chicken salad, there really is something for everyone — so bring your appetite, and get ready to snap the best foodie shots.
Within the first bite, you'll realize how fresh the food is at Speedos. The cafe caters its menu to the fitness fanatics who reside in Bondi (though people come from all over to sample their colorful spreads), and loves to change up the menu to fit what's trendy and in season.
Open for breakfast and lunch, Speedos' menu offers a delicious variety of food, from hotcakes to avocado toast.
My personal favorite dish is their pink pitaya bowl, which is arguably the most beautiful, Instagrammable smoothie bowl I have ever seen in my life. The bowl — which has mango, coconut, veganola (vegan granola), strawberry, passionfruit, kiwifruit, and banana — is completely gluten-free and vegan, and it was so good I just about licked the bowl clean. The pitaya (aka. dragon fruit) base is a bright magenta color, which is quite shocking at first, but mixed in with the rest of the fresh fruits, it's a mouthwatering match made in heaven.
Another surprisingly yummy — and picturesque — option is the fan-favorite triple-stacked caramelized banana and chia pancakes, which are completely vegan. The dish is served with poached berries, pistachio crumble, and maple syrup, and you have the option to add cocowhip as well (which I highly suggest doing). I split these with my best friend who was traveling with me, and enjoyed every single bite.
The food at Speedos is almost too pretty to eat. (Almost.)
If you're looking for plates that don't necessarily fall under the dietary restrictions umbrella (but still have a healthy twist), Speedos has you covered with that, too. Its protein power plate has scrambled egg whites and smoked salmon, but the bread served on the plate is gluten-free. (Even its eggs Benedict has a gluten-free option!) And for lunch, you can't go wrong ordering a crab burger or poke bowl.
Speedos completely changed the way I look at food that is gluten-free and dairy-free or vegan. I didn't know that food that took away some of my favorite ingredients could taste — and look — so yummy. (After all, what is a breakfast meal without eggs?) I remember being so taken aback just looking at the food, it almost looked too stunning to take a bite out of — but I am so glad I did.