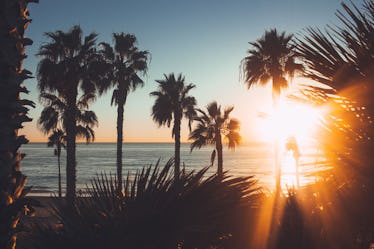 You Can Score A $49 Flight To San Diego With Southwest's Winter Flight Sale
Stocksy/Paff
Everyone knows and dreads that feeling: the moment that the winter doldrums hit hard, and all you can think about is ditching your desk and escaping to a tropical paradise with a cocktail (preferably fruity) in hand. Luckily, Southwest Airlines has got your back and is helping you make plans before that happens with rock-bottom fares. Seriously, Southwest's winter flight sale has flights as low as $49 (yes, for real), so you're definitely going to want to clear out your lunch plans and get to booking that wintertime escape you know you'll be craving.
While October is giving us just a taste of the chill we will come to expect in the coming months, it's the perfect time to start making moves for when sun-kissed skin and patio season is a distant memory. Per Southwest's website, the airline is offering travelers a flash sale through 11:59 p.m. on Oct. 4 to take advantage of some totally affordable getaway possibilities all over the country during select dates from November through February.
Perusing the offerings, I saw that flights seem to bottom out at $49 per a one-way ticket, with tickets to Nashville from Atlanta, Georgia, and Charlotte, North Carolina, for less than $50. Other cities getting in on the $49 deal include Albuquerque, New Mexico, to either Los Angeles or Phoenix, Arizona. Looking for a cheap California getaway? A $49 ticket from Las Vegas to Long Beach California, or a trip to surfer's paradise San Diego from Las Vegas or Phoenix are your best bet.
At the $79 price mark, there are even more options. Las Vegas dwellers can visit Denver, Albuquerque, El Paso, Portland, or Seattle, for the low fare, while residents of Milwaukee, Wisconsin, can head to Atlanta, Houston, or New York for under $80.
Meanwhile, New Yorkers can flee the dropping temperatures by heading to Atlanta, New Orleans, Nashville, and Tampa for just $99 while Chicagoans can ditch the Windy City to visit Austin, Fort Lauderdale, Jacksonville, and Las Vegas for the same price. There are so many options when it comes to making your warm-weather contingency plan, and you're definitely going to have to look through to find what destination appeals most to you. But one thing's for certain: When it comes to staying in the office or jet-setting to your dream destination, the choice is obvious.
I was really excited to see that unlike many of Southwest's flight sales, international discounts are also included in the airlines' winter bonanza. From now until March 6, 2019, wanderlust-seekers can jump on international flights to a few select locations for a fraction of the price, according to the fine print. For example, Baltimore residents can escape the cold to sunny San Juan, Puerto Rico, for just $129 one way.
As always, a sale like this is bound to come with a few restrictions. Per the fine print, domestic travel is blocked off to include dates from Nov. 28 through Dec. 19, 2018, as well as Jan. 3 through Feb. 13, 2019. The biggest caveat might be that domestic flights on Fridays and Saturdays are not included in the sale (for international flights, only Tuesday and Wednesday flights apply), so you might have to swallow the extra cost if you're hoping to snag a weekend getaway. In addition, discounted travel to and from San Juan, Puerto Rico is only available from Nov. 28 through Dec. 6 as well as from Jan. 4 through Feb. 28, while international flights that are part of the deal are only valid from Nov. 28 through Dec. 12 and Jan. 8 through March 6.
Despite the strict restrictions on dates, you can't ignore the fact that you are getting one pretty incomparable deal — especially considering that Southwest lets you check two bags for free, which can be up to $25 each at some other airlines. If you think about it, you could be booking your wintertime escape for the cost of two bags, which means that there's literally no excuse not to start perusing and booking away. Your warm weather retreat awaits.