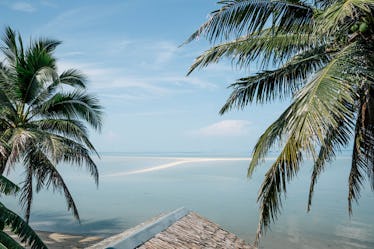 You Can Fly To Florida For $49 With This Airline, So Pack Your Bags ASAP
With June just around the corner, I'm already getting major FOMO thinking ahead to the cute Instagram posts from friends who've already booked their summertime getaways. After months of spring rain and gloom, patio weather is finally making a glorious appearance to remind us all just how great summer can be — especially when you're out of the office and soaking up the sun somewhere new. Luckily, an amazing new flight sale has cropped up that ensures I'll be living my best life and sharing my own "wish you were here" Instagrams in just a few weeks. Southwest's "Sale of the Summer" has $49 flights to Florida, and there's literally no excuse not to start planning a getaway right now.
For four days only, from Tuesday, May 15 through Friday, May 18, Southwest Airlines is helping summer travelers score incredible deals to their favorite domestic destinations, starting as low as $44 one way. To put it into perspective, that's less than two weeks of Starbucks coffees, or a nice dinner out with a few cocktails. The point is, it's a major steal, and everyone should be checking out these rock bottom prices.
Right now, deal-hunters can get plane tickets for less from $50 from central hubs like Atlanta, Georgia and Chicago, Illinois to destinations like Orlando, Florida, Nashville, Tennessee, or New Orleans, Louisiana. While many of the extra-low deals are in-state bargains (like $49 flights from Los Angeles to San Francisco, California, and Dallas to Austin, Texas), I saw a few longer trips from Chicago to Pittsburgh, Pennsylvania and Boston, as well as Massachusetts to Baltimore, Maryland for under $50, as well as a handful of very covetable destinations. For the same low amount, L.A. dwellers can head to Nevada for a Lake Tahoe weekend. It's everything you need to satisfy your wanderlust.
Unsurprisingly, the real deals seem to be for trips grouped in one area of the country, particularly the west coast and the southwest. There are $49 flights from Phoenix, Arizona to Las Vegas, San Diego, and El Paso, Texas, for example. The cheapest sale flights I've seen are $44 from Boise, Idaho to Sacramento, California or Spokane, Washington, and Greenville/Spartanburg, South Carolina to Atlanta, Georgia, so I'd get booking if any of those destinations sound like they should be a part of your summer plans.
If these rock-bottom deals sound like they are almost too good to be true, it's because they are (kind of). In Southwest's fine print, the airline says that these prices are only eligible for passengers flying out on a Tuesday or Wednesday if you're flying domestically. And while these domestic fares are available for flights from June 5 through October 31, they must be booked 21 days in advance, which means it's better to plan a little in advance. Also, as expected, popular holidays like Independence Day and Labor Day that fall within this time frame are excluded from the sale.
This is an incredible deal for a summer flight to your pick of popular destinations. And since these are one-way tickets, they can be combined with a return flight on a slightly more expensive day during the week for a round-trip total that's still pretty fantastic. Also, another thing that I notice that people oftentimes fail to factor in when flying is the cost of checking a bag, which can start at $25 for many airlines. Southwest offers two free checked bags as well as two free carry-ons on all flights, so you know you're really getting a great deal. In addition, you can cancel or change your flight up to ten minutes before your trip with zero change fees if you're suddenly struck with buyers' remorse or see something better.
So, let's get to booking. With just 96 hours until prices go back up to normal on Southwest.com, now's the best time to snag a steal on that summer getaway you've been dreaming about. In fact, why not book a couple different trips while you have the chance? You deserve it.