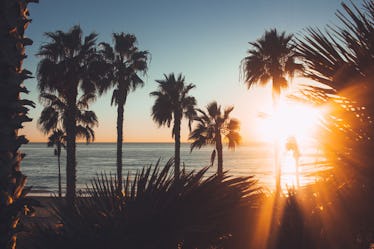 Southwest's Flash Sale Has $47 Fares, So Start Planning Your End-Of-Summer Trip
Stocksy/PAFF
Summer is flying by, which means there's never been a better time than right now to start knocking items off your travel bucket list. Whether you're overdue for a vacation or simply live in a constant state of wanderlust, late summer sales on airfare make it so easy on your wallet to plan that getaway you've been dreaming about. Start drafting that perfect "OOO" email now, because Southwest's flash sale has $40 fares, and you're definitely not going to want to sleep on these deals.
From July 31 through August 2 at 11:59 p.m., deal hunters can head to Southwest.com to score on all sorts of trips through next year. Per the fine print, the fares are available as soon as Aug. 21, 2018 through Feb. 13, 2018, so you can get discounted travel on both last-minute getaways and tropical trips that'll be complete lifesavers when the cold hits and everyone else is suffering through the winter blues.
The cheapest deal that caught my eye was a $47 one-way ticket from Las Vegas to Long Beach or $55 to San Diego, which can be easily supplemented with a short-jaunt ticket if you're coming from the East Coast or Midwest. Considering that the cost of checked bags is usually $25 and Southwest lets you bring two 50-lb suitcases for free, you're basically getting the cost of your airfare on the house. While most of the lowest rates are for in-state or inner-region travel, other notable steals include a $99 flight from Chicago to New York's LaGuardia or Newark airports, which basically translates to the cost of a few nice dinners, as well as some pretty great discounts from Denver. Passengers flying from Denver can expect to pay just $56 for a one-way ticket to Los Angeles or $89 for one to New York.
There's literally something for everyone, and you're going to have to look at the full list of domestic fares to choose a destination.
As with all discounted fares, there's some fine print. You're required to book your ticket 21 days in advance of your actual travel date, so you're going to want to get on that right away if you're planning any August getaways. It might be a good idea anyways, as I noticed that as of July 31, a few of the more desirable fares I'd been looking at were already getting bought up and prices were rising. In addition, a few dates are unsurprisingly blacked out due to holidays. The discounts won't be eligible around Labor Day, Thanksgiving, and the days before and after Christmas. In addition, Dec. 29-30 2018 and Jan. 1-2 2019 are blocked off, so plan for that while making your purchases.
It also helps to be flexible on your travel dates and plan for a long weekend, as the domestic travel is not valid on Fridays and Sundays. In addition, traveling to Sin City or any place in Florida has been restricted to Sundays through Wednesdays, while travel from these parts is only valid on Tuesdays through Fridays. That being said, it seems like a small price to pay for these steals and two free checked bags, which would explain why these discounted fares are already getting snatched up.
Get to booking if you've been thinking about a getaway during this time frame, because this flash sale will be over before you know it.