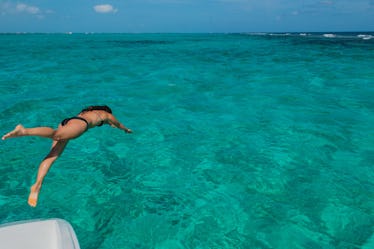 You Can Fly To The Cayman Islands For $59 With Southwest's Holiday Sale
Saving up money during the holidays is nearly impossible. Between buying gifts, hosting parties, cooking dinners, and traveling, you can kiss your cash goodbye. Thankfully, one airline is helping flyers get their traveling expenses out of the way before the summer ends. Get ready to plan your trips early, because Southwest Airlines' 2018 holiday sale has cheap flights for fall and winter. Put your margarita down, and pick your credit card up. You don't want to miss this flight sale — and your wallet will thank you when the holidays come rolling around.
That's right: "Holiday presence" are on sale, as Southwest's website cleverly says. The company is offering discounted flights for those who need (or want) to travel during the holiday season. If you book by Thursday, July 26, you can score cheap plane tickets for both domestic and international flights. According to the company's sale page, domestic travel is valid between Aug. 21 and Feb. 13. International travel, on the other hand, is doable between Aug. 21 and Dec. 12. Additionally, if you're flying to/ from Puerto Rico, the sale will work between Sept. 5 and Dec. 6. Southwest wants you to keep in mind that blackout dates do apply to these sales, so buy your tickets accordingly.
Now that you know the details about Southwest's holiday sale, you're probably wondering where the discounts will take you. By doing a quick scroll through the airline's sale page, you'll find various origins and destinations alongside their specified ticket prices. There are hundreds of options to choose from, with one-way tickets starting at $47. That's right: You can fly from Las Vegas, Nevada to Long Beach, California for freaking $47. Can you believe that?
If you aren't in Las Vegas, don't fret. There are tons of other deals, like this $59 flight from Ft. Lauderdale, Florida to Grand Cayman of the Cayman Islands. If you're dreaming about the Caribbean, you can also fly from Ft. Lauderdale, Florida to Belize City, Belize for only $69. Other irresistible tickets from the Sunshine State include $74 flights from Ft. Lauderdale, Florida to Nassau, Bahamas, and $58 flights from Ft. Lauderdale, Florida to Orlando, Florida.
Yup, it seems like those of you living in Florida are going to be lounging on the beach once winter comes, regardless of where you travel. (For the record, I am jealous.)
You don't need to be living in Florida to experience warm weather in the midst of winter, though. Those of you living in New York City can fly from The Big Apple to Tampa, Florida for only $103. You can also travel from New York, New York (LGA) to New Orleans, Louisiana for $111. If you're trying to spend Thanksgiving indulging in beignets and jambalaya, that might be a trip to consider. But if you're more into warm weather and live music, I'd suggest this $135 flight from New York, New York (LGA) to Nashville, Tennessee. I don't know about you, but escaping the cold weather to hang out in Music City sounds like, well, music to my ears.
Whether you're planning a holiday vacation to visit your family, or embarking on a solo beach vacation in the midst of the cold months, Southwest has your back. Book before July 26 to take advantage of the sale.