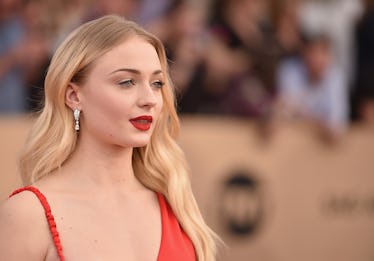 You Need To See Sophie Turner's Emotional Twitter Thread About The 'Stranger Things' Kids
Alberto E. Rodriguez/Getty Images Entertainment/Getty Images
If there's anyone who would know about the pressures of growing up in the spotlight, it's Sophie Turner. The Game of Thrones star, who became famous for the role of Sansa Stark at age 15, knows exactly what the stresses and weirdness of being a famous teen are. Which is probably why she took to social media in an epic Twitter thread about the Stranger Things kids on Nov. 6.
Turner, who isn't exactly a shrinking violet on social media, was pretty freaking explicit in her response to stories about fans harassing the adolescent stars of Stranger Things. Over the weekend, a tweet that has apparently since been made private was said to show a video of a fan criticizing Finn Wolfhard, who plays Mike on Stranger Things, for not stopping for a photo. Per The Mary Sue, the video showed the fan waiting outside Wolfhard's hotel as he left, and then later returned — apparently without granting the fan's request to talk to him. The video was captioned, "Imagine being 14 and heartless that you can't even stop for your fans who made you famous in the first place! WOW."
Except, you know, nobody owes anyone their attention, and that includes celebrities. The video was roundly criticized, with Shannon Purser (aka Barb, may she rest in peace) calling it out right away.
On Monday evening, Turner got into it too. And she didn't hold back.
Turner called out any adult who would think it was OK to harass or bother a teenager (because, let's remember — these kids are still kids) just because they happened to be good enough at acting to be in a show that you like.
Honestly, I can't agree with her more. Finn Wolfhard is 14 years old. That's a kid. I mean, when I was 14 my parents were still telling me about "stranger danger." Stopping and talking to, or taking photos with, grown adults who you don't know is literally what your parents are warning you about at that age.
That's probably why Turner didn't stop there. A few hours later, she took to Twitter again to follow up:
Preach, Sophie.
Other child stars — including Turner's own fiancé, Joe Jonas — have come out to talk about the way the pressures of being famous at a young age changed them, including the pressure to be perfect for fans. In an essay with Vulture in 2013, Jonas wrote,
We didn't want to disappoint anyone — our parents, our fans, our employers — so we put incredible pressure on ourselves, the kind of pressure that no teenager should be under. We were just kids. That's the reality. We were frightened little kids. So you got all this responsibility that's foisted upon you and you're expected to be perfect.
It's not the only problem that some have seen with the way the young stars are treated.
Headlines praising Millie Bobby Brown, who is only 13, as "grown up" for her red-carpet looks are more than a little off-putting, as fans have pointed out. (There was also the super-creepy "sexy" Eleven Halloween costume, of which least said, the better.) And last month a 27-year-old woman came under fire for posting on social media telling Wolfhard — who, again, is 14 years old — to "hit me up" in four years.
It should go without saying that all of this is not OK. These kids have a right to be kids, and (I can't believe I have to say this) it is really not OK to sexualize a child, no matter what, not even if they look "mature" on the red carpet.
So kudos to Turner for standing up for them. Yet more proof that the Starks protect their own.