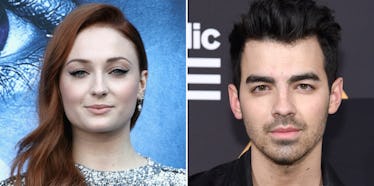 Sophie Turner Got Real About Her Engagement To Joe Jonas & Why It's Not An Achievement
Frederick M. Brown/Jamie McCarthy/Getty Images
Sophie Turner isn't here for people saying marriage is the end all, be all of accomplishments. The Game of Thrones actress opened up about how she feels about marriage and her career in a recent interview with Marie Claire. In the interview, she said being engaged isn't an "achievement." Now, before you think that means she's not excited to marry Joe Jonas, that's far from the truth. The actress just has a very real take on the different things career and marriage bring to a person's life. Sophie Turner's engagement to Joe Jonas is not an "achievement" because, according to her, marriage isn't where life stops. She feels her career brings her the biggest accomplishments of her life, and her relationship is something entirely separate.
She told the outlet she can't believe she's engaged and that it's "lovely" to have found what she's found with Jonas. "I'm still like: Holy sh*t! I'm engaged," she said, adding,
There's this weird misconception that being married is the greatest thing that'll ever happen to you. But I've always found that my career is something I work for, and when I achieve something, there's a sense that this is the greatest thing I'll do in my life.
She continued,
It's lovely to be engaged. Not like I achieved anything, but I found my person like I'd find a house that I love and want to stay in forever. There's a sense of peace that comes with finding your person. But there's a drive that comes with your career.
Girl, yes. I love everything about what she said. Marriage and career are two completely separate things for people, but more often than not marriage is portrayed as a goal for women and girls to aspire to. It's like the Chimamanda Ngozi Adichie TED Talk Beyoncé quotes in "***Flawless" that says, "Why do we teach girls to aspire to marriage, but we don't teach boys the same?" In this interview, Turner is basically saying she sees her relationship and eventual marriage to Jonas as something that brings peace and joy to her life — two very important things for any person — but her career is something entirely her own that makes her feel driven. Women can have all of these things without having to sacrifice any other part of their lives, and Turner's making that clear.
Turner also briefly talked about the #MeToo movement in her interview with Marie Claire, saying the movement has made her feel more comfortable walking onto a set knowing there is a community of people ready and willing to help her should the need ever arise. "I'm so much more comfortable going into work knowing that there's a group of people who will believe me if something does happen," she said.
Turner has this unshakeable confidence in all of her interviews that I love. She's unapologetic about her opinions and doesn't seem to tailor her comments to any kind of expectation surrounding her. She does an interview when she has something to say, and I love everything about it.
She said she loves switching from her natural blonde to the dark red she employs to play Sansa on Game of Thrones. "Whenever I go red, I feel like, f*ck yeah," she said, adding, "As a blonde, it's empowering in a different way. I went back to my natural color and I was like, 'Damn, I feel like Sophie again.' I find power in every haircut and color because you can transform yourself into whatever you want and you can reinvent yourself."
Jonas and Turner announced their engagement on Instagram on Oct. 15, 2017. They posted the same photo of Turner's left hand (stunning engagement ring on display) on top of Jonas', and they captioned the posts "She said yes," and "I said yes," respectively. They famously keep their relationship private, and Turner's Marie Claire interview has shed a lot of light on why that is: their relationship is like a home to her, and that's not something she has to share with the world.