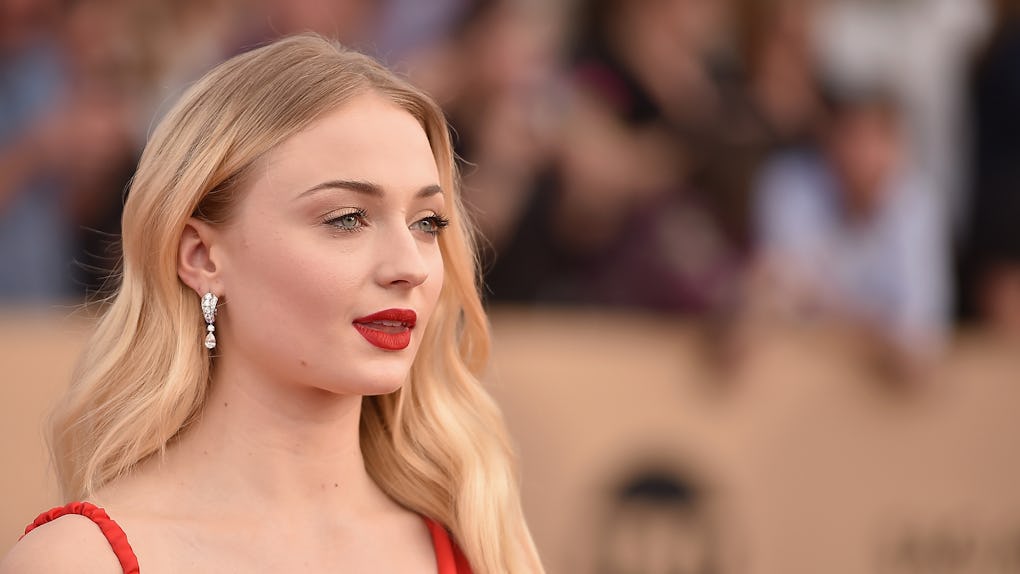 Alberto E. Rodriguez/Getty Images Entertainment/Getty Images
Sophie Turner's Engagement Ring Is Turning Heads, Here Are 7 Styles If You Love Her Bling
Many of us are still majorly excited about Sophie Turner's engagement to Joe Jonas. In fact, we're still pinching ourselves to make sure we're actually awake, because her engagement ring is so dreamy and beautiful. Talk about major bling. Trying to find an exquisite style just like Sophie Turner's engagement ring is most likely on everyone's radar by now, because the bling seriously pulled at our heartstrings.
I have to apologize to anyone expecting to get down on one knee anytime soon, because the style of ring may have moved in a completely different direction than before. And while we may not be able to afford all of the glitz and glam Joe Jonas can, something that can still make our hearts skip a beat and set us apart from the norm will do the trick. Engagement rings should be unique and tailored to who you are.
Getting engaged is a milestone in anyone's life, and receiving a ring that seemingly takes the words right out of your mouth and speaks to you on a deeper level is such a magical feeling. I mean, we don't want to completely hijack Sophie Turner's ring style, but coming pretty close to it couldn't hurt. Luckily, there are plenty of styles that replicate that gorgeous look. Hopefully your finger is ready.
1. Moissanite Engagement Ring
Brilliant Moissanite Engagement Ring Set, $916, Etsy
This has such a classic look, and is so simple at the same time. The double bands make that rock stand out. This ring has a lot of bling, but it isn't too flashy. This is perfect for anyone who wants more than one band, but doesn't want them to take up most of their fingers.
2. Stirling Silver Halo Ring
1.5 CT Halo Engagement Ring Brilliant Cut, $40+, Etsy
Get your sunglasses out, because this rock is sure to lighten up your eyes, heart, and whatever room you walk into. Having just one band for something like this will suffice, because you don't want to take away from that exquisite iceberg on top. Of course, the size of the ring shouldn't be the biggest emphasis, but we surely aren't rejecting it, either.
3. Entwined White Gold Ring
Chamise Diamond Ring, $990, Brilliant Earth
Talk about detail. There's something about entwined bands that make your ring and your finger seem so much more elegant and graceful. Notice that you don't need a lot of diamonds for this style, because the entwined bands stand out on their own. Bands are one of the only things that embody the tangled look so amazingly. You'll literally never want to take this gem off.
4. White Gold Split Shank Diamond Ring
14k White Gold Round Split Shank Diamond Engagement Ring, $965, Gabriel New York
Why are engagement rings so lovely? The slightly open band with this look gives you the best of both worlds. It's almost like you have two bands for a portion of the ring, and a single band for the rest. For anyone who can't seem to decide, the ring that is sure to subside your indecisiveness is right here.
5. White Gold Princess Engagement Ring
Diamond Engagement Ring, $974.25, Kay
Clearly, anything involving the word "princess" has the potential to be something dreamy and enchanting. Who names these cuts, anyway? Regardless, the mix of studded and bare bands that complete this ring gives it a unique flare. There's honestly enough sparkle in the center to put disco balls to shame.
6. White Gold Twisted Ring
14k White Gold Round Twisted Engagement Ring, $700, Gabriel New York
For anyone who just wants the focus to be on the center of the ring, this style is for you. Not everyone likes the all-around studded look. Having a twisted or free form band that leads to a prominently cut rock in the middle is also something that looks incredibly beautiful.
7. Round-Cut, White Gold Diamond Ring
Diamond Engagement Ring, $974.25, Kay
There's something majorly enchanting about this ring style. That center piece literally looks like it was handcrafted by your prince and placed on your hand. You just can't help but get the fairy tale feels when gazing at a ring as gorgeous as this one. I know they say those stories aren't true, but this ring is making it hard to believe that they aren't.
Engagement rings are physical gestures that open an exciting new chapter in two people's lives. Of course, the idea that you are receiving something special and unique is important, but the thought that you're spending the rest of your life with someone is invaluable.