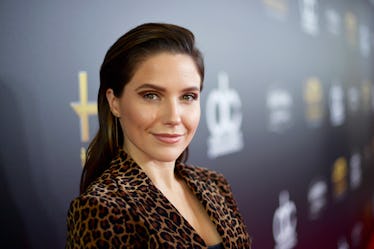 Sophia Bush Reveals What It Really Means When Guys Call You "Intimidating"
Matt Winkelmeyer/Getty Images Entertainment/Getty Images
As someone who spent the vast majority of her life single, I know how living solo has its high moments during which you're soaking up every last shred of independence, and its low moments in which you find yourself sometimes questioning why it is that you're on your own. If you find yourself experiencing one of those low moments, I highly recommend checking out Sophia Bush's quotes about being single in the latest episode of the Anna Faris Is Unqualified podcast. She's wise.
First, Bush started off by explaining what makes her wonderful — with or without a significant other. "I've been single for years. So here's what's interesting to me, what anybody perceives from the outside is always so different than how you feel on the inside, right? And, I think about this as I've sat with all of this stuff for the last years, and I sort of have a highlight reel where I go, OK, when I started speaking, I spoke in full sentences," Bush explained. "I have been environmentally engaged since I was a little kid, I've been political for as long as I can remember, I went to USC for the BFA acting program."
Next, she went on to explain how her many accomplishments and interests have left her feeling judged by past partners for being "too much," something many of us have probably been called at some point in time. But she's not just accepting that insult anymore.
"I transferred into the journalism school and I did an emphasis in political science, and I am so into the world and into people and into music and like, I am a lot," she said. "And the change, in the same way that I'm trying to learn how to take a compliment and be thankful for it and let it resonate, is I'm no longer—my old story was, 'I'm too much.' F*ck that, I'm not too much. I'm actually really fun, a great friend...I give a sh*t about people, even when they're not all that nice to me."
"I will sit and really talk about issues with people who believe very different things than I do, because I think it's the only way forward," she continued. "I have been, for many years, told that I'm intimidating. And for many years, my old story was, 'I'm a lot for people then.' Or, 'I'm a lot for guys. As a woman who operates in the world the way that I do, I must be too much.' And, no, not true."
As if all of that advice wasn't fabulous enough on its own, Bush also had some excellent advice on recognizing your own self-worth. "What I realize, when I look back at the way I have operated... also by the way as a serial monogamist for a long time, and stuck in relationships that were not good for me... I now look back and go, 'Oh, it's not my fault, it's not their fault.' Even the guys who f*cked up so bad—and I've had a handful," Bush told Faris. "What I realize is that I have to own my role in it, because more often than not, I have chosen to date the potential I see in someone and not who somebody is in this current moment."
"And that's not to throw shade at anybody," Bush added. "That's simply to say, I settled for less, and maybe that's because I came into the world like a little Ruth Bader Ginsburg and was like an old woman from time that I was born, and the guys just haven't caught up? I don't know. But even in the relationships where I've been cheated on or f*cked over or they've been so toxic, or like, I've fallen in love with my best friend after years when I knew it was a bad idea... I finally, years ago, when I got off a roller-coaster in my last relationship with a person who I love but who like, the relationship was so bad for me, I finally went, 'Enough! Just enough! I'm good, I'm done.'"
Oh, and the most important lesson of all? Being single doesn't necessarily equate to being alone. "I have companionship because I have the most tremendous community," she noted. "My friends are so special and amazing, they are like ride-or-die, travel the world, show up at 2 a.m., like good humans."
"And I realized that if I wasn't as patient with myself or as loving to myself as I've been with partners who just didn't, at the end of the day, deserve it...and again that's not a hateful thing, it's just to say like, 'You don't deserve this piece of me,'" Bush concluded. "That's OK, I f*cked up giving it to you when you didn't deserve it...and I don't deserve to treat myself that way either."
Listen to Bush's full interview with Faris here and get ready to soak up all of her infinite wisdom.