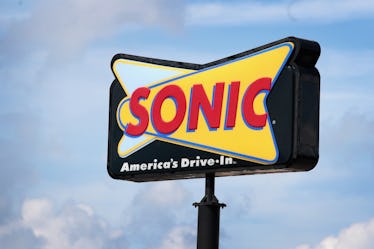 You Can Get A 50-Cent Corn Dog From Sonic If You Visit The Drive-In Today
Scott Olson/Getty Images News/Getty Images
Did you ever think you'd be able to grab lunch for less than a dollar? It almost sounds too good to be true. Thankfully, Sonic has made it possible for customers to score a meal on the cheap. More specifically, Sonic's 50-cent corn dog deal for December 2018 is finally here, so hungry drive-in visitors can buy a corn dog for two quarters. Yes, two quarters and that's it. When you think about it, that's probably less than what you'd spend on a cup of coffee in the morning. So, if you're craving a corn dog and live by a Sonic Drive-In location, read on to find out how to buy one with your spare change.
Sonic's 50-cent corn dog deal will be taking place all day long on Wednesday, Dec. 5, according to a tweet by the company. If you ask me, that sounds like a pretty great excuse to eat corn dogs for breakfast, lunch, or dinner. Whether you're hoping to score a mid-day dog or a post-work snack, you'll be able to grab one for less than a dollar. Heck, if you're willing to spend more than a buck on corn dogs, go ahead and buy a handful of 'em. The more corn dogs, the better... right?
Since the deal is happening all day long, you might want to check out the hours of your local Sonic Drive-In. (I'd hate to show up for a corn dog after the restaurant closed, wouldn't you?) In order to find the hours, head to Sonic's Location page on the company's website. Then, type your city and state into the search box to the left of the map. Once you've done so, a selection of nearby Sonic Drive-In locations should appear on the screen. When you find the closest one, hit "Visit Site" and view the restaurant's hours. Then, you'll be able to plan your corn dog escapade.
Now that you know how long you'll have to score a 50-cent corn dog at your local drive-in, you're probably wondering how to do it. As always, you can visit a Sonic location near you to score the snack in person. However, there is a hack that you can use to get it faster when you arrive. According to Delish, you can order a 50-cent corn dog on Sonic's app and skip the line. That'll definitely come in handy if you're planning on dipping out of work during your lunch break for a few corn dogs.
Apparently, lots of people on Twitter are already plotting their corn dog missions for Dec. 5 — and I definitely don't blame them. Some folks are even reminding their followers about the deal so they don't miss out on it.
How thoughtful, am I right?
Someone even set a reminder on their phone for the big day. Now that's dedication.
If you're also dedicated to scoring a 50-cent corn dog from Sonic on Dec. 5, start planning your trip. To avoid waiting in a long line, go ahead and download Sonic's app and order a corn dog from your phone. Regardless of how you buy it, you won't be spending much money at all.
Bon appétit, corn dog lovers.