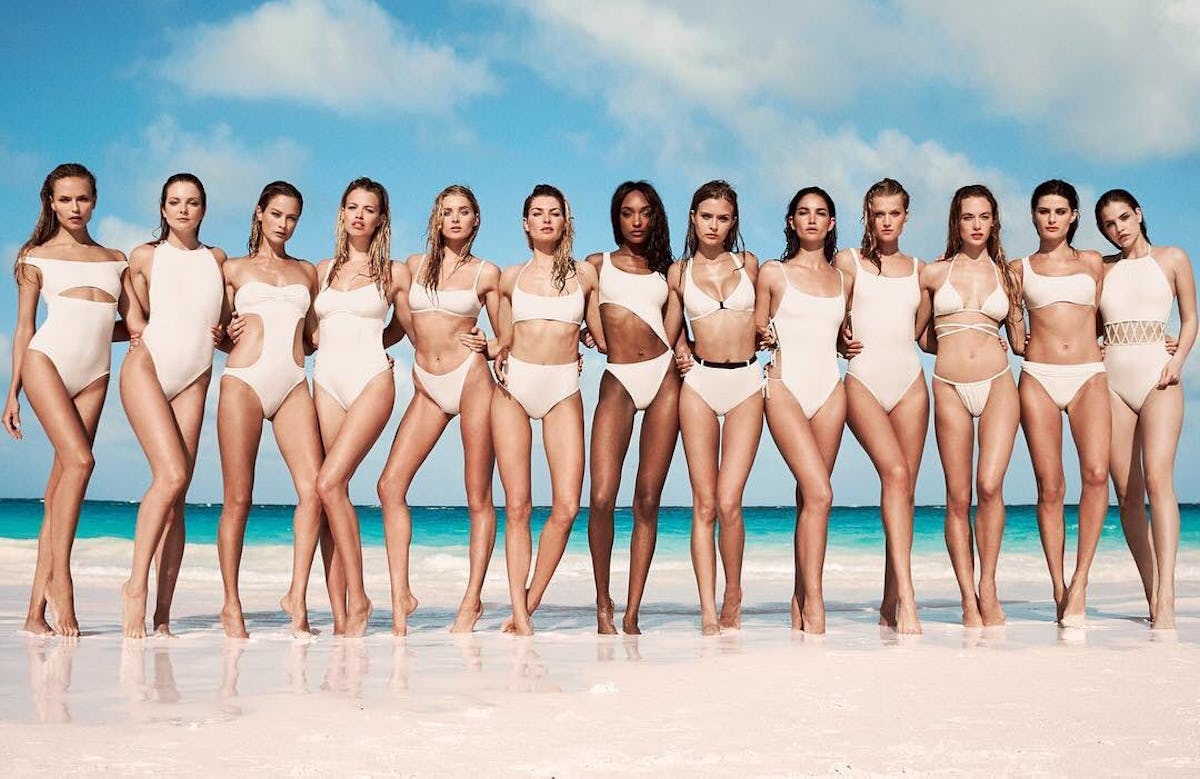 This Swimsuit Ad Is Going Viral For A Disappointing Reason & Twitter Isn't Happy
The fashion industry has been historically lacking when it comes to diversity and inclusivity. However, plus-size models and models of different ethnic backgrounds are slowly but surely gaining much-needed portrayal as fashion icons, whether they're on catwalks or campaigns. Under that umbrella, a new Solid & Striped swimsuit ad is making the rounds on social media — but unfortunately not in a positive way.
Solid & Striped is a celebrity-loved swimwear brand and their products come with a celebrity-level price tag to match, averaging out around $170 per suit. Taylor Swift and her squad are fans of the brand, and Beyonce wore one on the cover of BEAT magazine in 2015. To keep enticing their A-list clients, Solid & Striped released a new campaign featuring 13 models wearing suits they designed in conjunction with the brand.
The bathing suits are cream colored bikinis and one-piece suits, but the wardrobe is the least of the public's concern. All 13 of the models cast are typical size-zero models, and 12 out of the 13 models look to be white. Social media has mostly taken issue with the lack of ethnic diversity among the group; Jourdan Dunn is the only model of African descent, and there are no Asian or Latina women present.
The shoot was styled by Carine Roitfeld of CR Fashion Book and photographed by Bjorn Iooss who has shot the Sports Illustrated Swimsuit Edition in years past. The models, from left to right: Natasha Poly, Eniko Mihalik, Carolyn Murphy, Hailey Clauson, Elsa Hosk, Jessica Hart, Jourdan Dunn, Josephina Skriver, Lily Aldridge, Toni Garrn, Hannah Ferguson, Isabeli Fontana, and Barbara Palvin.
The women are all off-the-charts gorgeous, but people are wondering why Solid & Striped chose to only include one woman of color in the photos and collaboration.
One Twitter user wrote, "Can we talk about the lack of diversity shown here from @SolidandStriped !!!! Jeeeezzzz 🙄🙄🙄🙄🙄🙄🙄." So many eye rolls.
"Jourdan Dunn because they only thought to include one black woman in the whole campaign," wrote another. Twitter is questioning whether Dunn was included because the brand actually wanted her, or if it was just for some token diversity.
Another tweeted, "At least Jourdan Dunn is in the center where she, a black queen, belongs." People were happy to see Dunn in the ad and right in the center of all her coworkers.
One user wrote, "Dear @NaomiCampbell @missjourdandunn @The_Real_IMAN @tyrabanks I'm really sad and angry...it's unacceptable to see this kind of picture in 2018! Where's the diversity???! 13 women and only one ethnic woman featured it's a shame. Please talk to your friend Carine, Much love."
The same user continued, "Sadly this is a representation of the modeling industry ... Ethnic models don't have access to the "Dream Beach" ... Im really happy for @missjourdandunn and really love her but this picture looks like some GET OUT movie scene!"
"Was the photographer blind ? Or maybe the team behind the shoot they were blind too? @missjourdandunn couldn't you see there was something wrong? Or maybe it was all about money ? We really need some explanations ... we don't need this kind of image for BLACK HISTORY MONTH!"
The fact that it's Black History Month is likely a coincidence, but a tone-deaf one at that.
Another user asked, "Sincere Q: how is it 2018 and we're still only featuring one token WOC in editorials?"
The number of Twitter users responding to the ad is remarkable. "Speechless. Put a woman of colour right in the middle of our campaign - box ticked. COME ON," said one. Another user referenced the "tokenism" in the photo, the idea of having one woman of color simply for the sake of diversity.
Elite Daily reached out to Solid & Striped for a comment on the controversy, and the brand swiftly returned a letter from CEO Isaac Ross.
This is Isaac Ross, the Founder & CEO of Solid & Striped. I would like to start by saying how humbled I am to have worked with every one of the 2018 Swim Team members. They are inspiring designers and collaborators and I am so proud that Solid & Striped was able to provide them a platform to showcase their individuality. Swim Team was and will continue to be a design collaboration, not a campaign. Each woman spent significant time in our studio throughout the entire creative process. The collection they designed was compelling and the response to the product so far has been overwhelmingly positive. As a brand, our intention has always been to empower women. 18 months ago, I came up with the idea of a swim team. The concept was to collaborate with a group of models who could each design her own bathing suit for the brand. It felt like a great way to get some new perspectives and challenge the traditional model/brand relationship. Our intention was to give an empowering, fun, creative outlet to a group of women who we as a brand are inspired by. When I embarked on this project we reached out to a broad and diverse pool of talent. The women with whom we collaborated had a genuine interest in taking time out of their schedules to be a part of the team. The intention was never to exclude anyone. I'm genuinely sorry Swim Team failed to represent a more diverse group of women. I acknowledge the problem and we will do better.
While it's helpful to read the thought process behind the collaboration, in the end, the resulting ad is not an accurate representation of society. Consumers are asking more from the companies that advertise to them, and it appears that Solid & Striped isn't taking their concerns in vain. Every time a brand misses the mark, it's an opportunity to continue a long-overdue dialogue about fashion and beauty standards that represent and serve all of us, not just a select few.