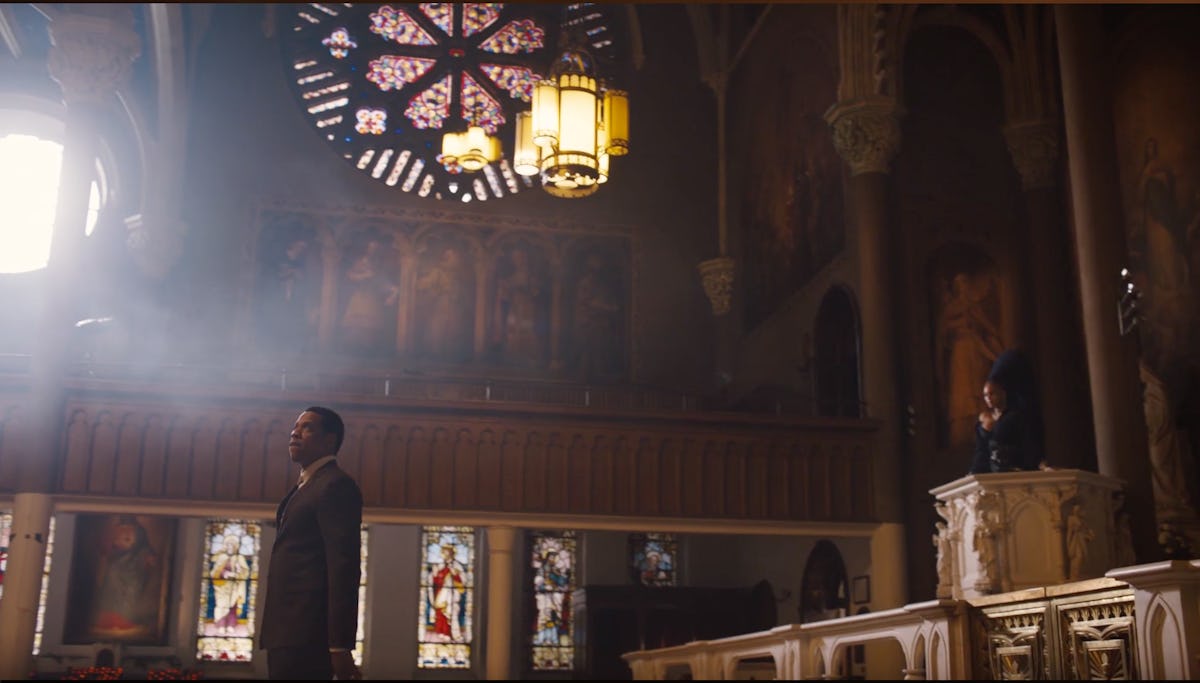 Fans Were Shocked This One Person Didn't Make It Into JAY-Z's New Music Video
TIDAL
IT'S HERE, YOU GUYS. JAY-Z's "Family Feud" music video dropped at 4:44 p.m. (go figure) on Friday, Dec. 29, 2017, with the most star-studded cast of all time. And yes, of course Beyoncé and Blue Ivy made it into the vid. But someone else close to the fam didn't make an appearance in "Family Feud": Solange. So why wasn't Solange in the "Family Feud" video? Well, that's yet to be determined, but nonetheless, fans had some thoughts about that.
"Family Feud" features Mindy Kaling, Constance Wu, Niecy Nash, and Brie Larson, just to name a few of the famous faces who grace our Tidal screens. But Beyoncé's only baby sis, Solange, was noticeably left out. Solange has long broken away from Bey's shadow and has had an impressive solo career of her own. Her album A Seat At The Table dropped in 2016 to rave reviews, and she's been successfully touring on the material ever since. You'd think since so many famous faces were in the video, Solange would be included in some capacity, but her absence is causing fans to question WTF is up.
If you recall, Solange famously hit JAY-Z in an elevator he shared with Beyoncé after the infamous Met Gala in May 2014. The leaked footage of the incident is initially what started Bey and Jay cheating rumors way back when. It turns out in recent years, it has been revealed that the incident at the Standard Hotel has a 444 address, which many fans believe was the inspiration for JAY-Z's album name and four obsession. Either way, fans are convinced that since Solange had one of the original roles in exposing the controversy, she should definitely be included in the final cut of "Family Feud." After all, Solange's involvement in the Bey and Jay scandal was the original family feud, amirite?
Before The Video Even Dropped, Fans Shared Their Thoughts On Solange
OK, I mean, Sarah has a point. If "Becky" was referenced, surely the elevator incident deserved to have its moment as well. What gives, Jay?
Some Think Solange Shouldn't Have Just Been In The Video, She Should Have Had A Singing Part As Well
Some Fans Are Using "To Solange" As A Verb Now
Some Think Solange Had A Part Regardless, Even If She Wasn't In The Video
I mean honestly, this is a very good theory. There are a lot of background verses in this track, and Solange certainly could have played a part in it, even if it was on the DL and Jay knew nothing about it. Honestly, I'm here for the conspiracies, so keep 'em comin, Twitter.
Some Took This Opportune Moment To Reflect On What A Steve Harvey Jay/Bey Family Feud Might Look Like
OK, first of all, I'd like to just say that just because Solange hit Jay in an elevator ONE TIME doesn't mean she should forever have the reputation of being angry in all familial moments. As someone with an older sister, I knew right away that the only reason Solange could have blew up in that elevator was because of cheating, and honestly, can you seriously blame her for being mad at Jay? Beyoncé is an actual queen and Solange knows that. Jay you better recognize, and clearly you are... which is the point of this entire video.
Whether Solange truly had a part in the "Family Feud" song or video or not, we know Bey can handle it on her own. Clearly, the Carters have proven they can get through anything, and that's exactly the lesson they plan on teaching little Blue along the way. I mean, she has the music video experience to prove it.