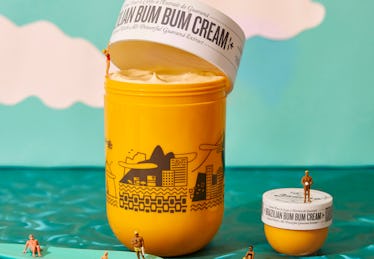 Sol De Janeiro Is Releasing A *Giant* Bum Bum Cream Gift Set That'll Def Sell Out Soon — EXCLUSIVE
Courtesy of Sol de Janeiro
The best presents are the ones that you'll actually use and that will somehow make your life a little brighter... or your skin a little happier. Enter: Sol de Janeiro's Biggie Biggie Bum Bum Cream gift set ($75, soldejaneiro.com), of which a limited amount are available today (perfect timing if you like to get a head start on your holiday shopping). Of course, it's most likely guaranteed to sell out at lightning speed, so you have to act quickly. If you know anyone who enjoys smooth, shimmery skin; lathering their body in addictive scents; or trying the best beauty products from all over the globe, you'll want to snag one for yourself — ahem, them — as soon as it drops.
Chances are you're already familiar with the brand's classic Brazilian Bum Bum Cream, seeing as it's taken over social media and beyond as of late. It's gained such popularity because it actually works and leaves skin legitimately smoother, softer, tighter, and more luminous. When you think of Brazilian beauty, healthy and happy (and let's be real, sun-kissed) skin likely comes to mind. So naturally, when a product drops that was made with the spirit —and natural ingredients!— of Brazil at its core, people are going to go wild for it.
"In Brazil, we believe you're as beautiful as you feel. We think beauty isn't a universal standard, but an attitude – a confidence that comes when you feel good in your skin," explains the brand via a press release. "It's about playing up your best assets and celebrating what's unique and joyful. And what feels good."
Trust me, the brand's newest offering will definitely make you feel good in a big, big way. The limited-edition Biggie Biggie Bum Bum Cream Gift set boasts more than double the amount of the much-loved product in super cute, Rio de Janeiro-emblazoned packaging, and it even comes with an adorable turquoise surfboard spatula to make slathering the cream on your body easy as ever.
In the spirit of giving, Sol de Janeiro is offering you early access to this product right now at soldejaneiro.com, so you can try to beat the crowds before it sells out. Like I mentioned before, there's only a limited amount for sale this time around:
However, if you aren't able to swipe one today, don't worry. This gift set will still retail for $75 at Sephora.com starting Oct. 9, 2018. Considering the regular Bum Bum Cream, which is half its size, retails for $45, this is a total steal.
If you're not familiar with the product, here's a little more information on what you can expect upon first sweet, sweet lather. The cream is infused with guaraná extract, which has five times more caffeine than coffee and will help improve circulation and tighten skin. It also contains a melange of cupuaçu butter, açaí, and coconut oil, which will leave your skin feeling intensely hydrated. Finally, the formula is packed with teeny tiny bits of light-reflective mica that will leave you glowing. The cherry on top? It smells legitimately incredible, with notes of pistachio and salted caramel composing its signature scent, Cheirosa '62. If only it was also edible...
Yes, all of these ingredients combine to make a product that will legitimately make your skin feel so intensely glow, hydrated, and firm, but the overall idea behind the product goes way deeper. "Our brand of beauty is more of a head-to-toe sensuality, a universal body language that says so much and comes through in a warm smile, a saunter, a samba," says Sol de Janeiro in a press release. "It's smooth, glowy, dewy skin that's irresistible to touch — and flaunt. And gorgeous to look at. It's an addictively delicious fragrance that invites you to breathe deep and inspires you to feel deeply. With passion and playfulness."
Now that's a beauty trend I could buy into.