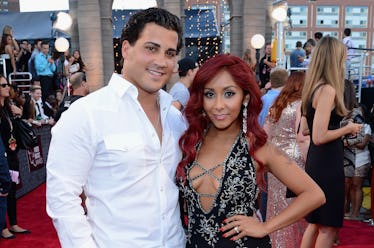 Snooki Reveals The Truth About Her Marriage After 'Jersey Shore Family Vacation'
Larry Busacca/Getty Images Entertainment/Getty Images
Anyone who wasn't a consistent fan of Jersey Shore back in the day probably doesn't realize that Nicole "Snooki" Polizzi actually met her now-husband, Jionni LaValle, via the show. What started out as a Season 3 hookup led to Snooki and Jionni's marriage and two children. Everything seems great for the couple, but a troubling moment in a new trailer for the Jersey Shore reboot series has fans worried about their future, and they can't help but wonder: did Snooki cheat on Jionni on Jersey Shore Family Vacation? The show's new teaser footage dropped a hint that the couple are currently facing a bump in the road. Elite Daily reached out to Snooki's team for comment, but did not hear back by the time of publication.
Although the Jersey Shore cast's antics in the first trailer were very reminiscent of what they got up to on the original show, the second trailer, released on March 29, referenced the fact that both Snooki and BFF Jenni "JWoww" Farley are now married mothers. A clip from the trailer shows Snooki joking that the cast's trip to Miami will inspire "moms gone wild," while she and Jenni call themselves the "best moms ever" in the confessional booth.
Seeing the friends and the rest of the cast at such a different, more adult stage of life is what I'm excited for on Jersey Shore Family Vacation, but other fans have narrowed in on another comment Snooki makes in the new trailer. In what seems to be the heat of the moment, she yells at someone off-screen, "This is literally gonna f***ing ruin my marriage!"
The trailer then cuts to footage of Vinny Guadagnino, who was known for having a flirty bond with Snooki on the original series, rolling his eyes. The fast-paced preview continues with another cast member commenting that "they," aka two unspecified people, have history together as footage rolls of Snooki and a hooded guy (possibly Vinny?) seemingly fighting each other. Elite Daily reached out to Vinny's team for comment but has not heard back by the time of publication.
Having faced plenty of ups and down in their friendship, Vinny's close relationship with Snooki even played a part in her initial encounter with Jionni. In a clip revisiting Nicole's first hookup with Jionni, Vinny claimed in present-day footage that his interference in their snuggling was the reason that Snooki and Jionni were married today. Hence why Vinny wasn't invited to their 2014 wedding, right?
There doesn't seem to be any bad blood between Vinny and Jionni today, but speculation surrounding Snooki's outburst in the trailer was enough for both her and Vinny to explain the mysterious comment. Speaking to Entertainment Tonight, Snooki revealed:
I can't really talk about it, because I want everyone to watch, but it's just me being drunk and dramatic and I just worry so much about Jionni, like, getting mad about things that he would never get mad about. So when I'm drunk, I'm like, 'Oh my god, you said I looked pretty! You can't say that!' Like, it's all in my head and I'm crazy, so you'll see it play out. I'm an a**hole.
Also playing it cool, Vinny spoke to ET about the possibility of old feelings re-emerging between the two on the rebooted show:
Listen, old things do come up, because we're together and that's going to happen. But at the same time, I'm pretty sure her marriage is alright.
It seems that both stars are hinting that the comment is over-exaggerated, and the atmosphere of a reality TV set definitely heightens old feelings. Elite Daily has reached out to Snooki's team for further comment, but she has not responded. Jionni has not commented publicly about the cheating rumors, but in January 2018, when Snooki and the cast began filming the reboot, he cleared up any rumors about their relationship in an Instagram post:
It looks like we won't have a clear answer about what happens between Snooki and Vinny on Family Vacation until the season is in full swing. Hopefully Snooki's fears about her marriage were taken out of context in the trailer and Jionni's pre-filming message still speaks for the current status of their relationship.
Jersey Shore Family Vacation premieres on Thursday, April 5, at 8 p.m. ET on MTV.