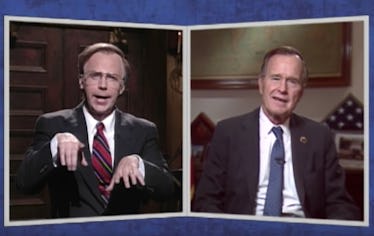 'SNL's Tribute To George H.W. Bush Highlighted A President Who Could Laugh At Himself
On Saturday, Dec. 1, Saturday Night Live aired a clip commemorating the late former president George H.W. Bush, who passed away on Friday, Nov. 30. SNL's tribute to George H.W. Bush highlighted a president who could laugh at himself and join in on the fun of being poked at by the show, both for his politics and his demeanor. During his time in office from 1989 to 1993, Bush was regularly impersonated by SNL comedian Dana Carvey.
The clip aired at the end of a "Weekend Update" segment on the Dec. 1 episode of SNL. Colin Jost and Michael Che took on a more serious note when talking about Bush's death and legacy. Jost introduced the tribute clip by saying, "President Bush was very famously a warm and gracious man who always understood the power in being able to laugh at yourself."
The segment then cut to old footage of Dana Carvey impersonating Bush — from the way he laughed to the sometimes unintelligible words he used, SNL didn't pull punches when getting a laugh at the sake of Bush. The clip cuts to old footage of Bush, who jokingly says to Dana Carvey during a skit, "Hey. George Bush here. I'm watching you do your impression of me, and I gotta say, it's nothing like me. There's no resemblance. It's bad. It's bad." Then, Carvey and Bush chat a bit as Carvey remains in character, both of them poking fun at the situation.
The segment starts at 1:41 in the clip:
All in all it was a fond remembrance of President George H.W. Bush, and it was pretty fun to recall a time when a president could play along with a comedy show. And from the short clip, it looks like Bush held his own in the comedy department by playing right along with all the jokes at his expense when talking to Carvey's rendition of him.
According to The New York Times, George H.W. Bush died in his home in Houston on Friday, Nov. 30 at age 94. In addition to living with vascular Parkinsonism, he had been facing health problems for several months. In April 2018 he was hospitalized with an infection in his blood, according to USA Today, and in May he back in the hospital receiving treatment to low blood pressure and fatigue, according to People. Bush's death comes just seven months after the death of his wife Barbara Bush, who died in April 2018.
Many Twitter users reacted to the tribute by making parallels between Bush and the current president. One user, @DeanObeidallah noted, "It says so much that George H.W. Bush invited Dana Carvey to White House to mock Bush to his face. Trump has called for SNL to be cancelled for mocking him, slammed Alec Baldwin and refuses to attend the White House Correspondents Dinner because he can't take a joke." Elite Daily reached out to the White House for comment on the online comparisons of Bush's and Trump's differing reactions to SNL's impressions of them, but did not hear back at the time of publication.
SNL's tribute to Bush was just one in a sea of eulogies and commemorations for the late President. President Barack Obama tweeted, "American has lost a patriot and humble servant in George Herbert Walker Bush." Senator Bernie Sanders wrote that Bush "served our country honorably." A statement from the POTUS and FLOTUS said, "Along with his full life of service to country, we will remember President Bush for his devotion to family."
These remembrances both somber and lighthearted are a fitting tribute to Bush, who will be laid to rest at the George H.W. Bush Presidential Library in College Station, Texas, per CNN. And I'm sure there will be plenty more kind words shared as friends and family say their final goodbyes.