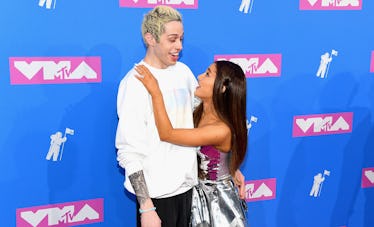 Pete Davidson Reportedly Pulled An 'SNL' Sketch About His Breakup With Ariana Grande
Nicholas Hunt/Getty Images
Jonah Hill may have been the host on this past weekend's episode of Saturday Night Live, but the person that every fan was looking out for was cast member Pete Davidson. After shocking the world by breaking off his engagement to Ariana Grande a couple weeks ago, Davidson was a big question mark for SNL viewers on this week's new episode: Would he address the big break-up or not? He wound up only briefly addressing it, but originally, the break-up was going to get a lot more attention on the show. An SNL sketch about Ariana Grande and Pete Davidson was reportedly ready to go on Saturday night, but got pulled from the show.
When Saturday Night Live premiered its new season last month, Pete Davidson's buzzy relationship with Ariana Grande was at the center of many of the show's jokes and sketches, but that clearly changed this week after the couple called it quits. According to a report from TMZ, though, that was not supposed to be the case. Apparently, Davidson had written a sketch about his break-up with Grande, but decided not to go through with it after getting word that Grande was upset with him publicly speaking about the break-up. Elite Daily reached out to Saturday Night Live for a comment on this story, but has not heard back at the time of publication.
Ariana Grande certainly did not hide her frustration a couple days before SNL aired, when a promo for the episode featured Pete Davidson joking about his failed engagements. Grande posted a string of subtweets after the promo aired.
The week prior, Pete Davidson first publicly joked about his high-profile break-up during a stand-up act. According to TMZ's report, Davidson and Ariana Grande had agreed not to speak about their break-up publicly, so that stand-up act and the SNL promo reportedly felt like a betrayal to the singer.
Although Pete Davidson did not go through with his reported sketch, the comedian did briefly address the break-up during an appearance on Weekend Update. Davidson wished his ex Ariana Grande happiness before encouraging viewers to vote in the upcoming midterms.
But Pete Davidson was not the only one to bring up the break-up on Saturday night. A half hour ahead of Saturday Night Live, Ariana Grande dropped a surprise single called "thank u, next," which referenced her break-up with Pete Davidson. While many fans were expected the song to be a diss track about Davidson, the pop R&B groove is actually a show of gratitude for all of Grande's exes.
So in the end, both Pete Davidson and Ariana Grande did address their break-up on Saturday night, but thankfully, neither did it with any sort of negativity. It also sounds like Davidson's address on Weekend Update will likely be the last time that the comedian will be mentioning Ariana Grande on Saturday Night Live this season — it definitely seems like that alleged sketch about the break-up is not going to air in future episodes.
Saturday Night Live will return next Saturday with Liev Schreiber as host and Lil Wayne as the musical guest.