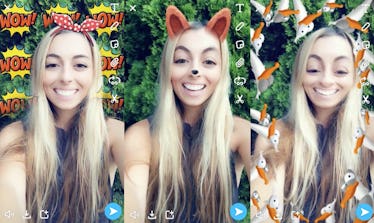 Snapchat's New Lenses Respond To Your Voice While You're Talking In The Coolest Way
Snapchat
Snapchat has come a long way from the days of the puking rainbow, and it's not stopping anytime soon. Since then, the company has released various World Lenses and scene recognition Lenses that react to your facial expressions and surroundings — but its latest feature takes Snapping to the next level. On Aug. 1, the company released sound reactive Lenses, and they actually listen to you speak. In fact, Snapchat's voice-controlled Lenses respond while you're talking, so you won't have to move a muscle to get the effects you want.
Before voice-controlled Lenses, you might've found yourself smiling or raising your eyebrows to achieve a specific animation. But thanks to Snapchat's sound reactive Lenses, you won't have to do that anymore. Instead, all you'll have to do is talk, and the app will react accordingly. Per Snapchat, the sound-dependent Lenses will respond to "simple, specific" words. (So, I probably wouldn't test your luck with every term in the dictionary just yet.) The company suggests using words like "hi," "love," "wow," "yes," and "no."
Just keep in mind that the app will only recognize a "small subset" of English words at the feature's launch — so keep it simple, have fun, and chat it up.
Now that you know what the voice-controlled Lenses do, let's talk about how they actually work. Each term listed above has a reactive Lens that belongs to it, and they're all different. Snapchat gave a few examples of the Lenses via email, and they'll make you so excited to try them.
One of my favorites out of the group is the "hi" Lens. When you say "hi" into Snapchat while you're using the voice-controlled feature, a flock of birds will surround the camera frame and yell "hi" repeatedly.
They remind me of these guys:
Another Lens will activate when you say "yes" into the app under the voice-controlled setting. When you say it, a zoom effect will take place. If you decide to say "no" instead, you will be placed in an infinite photo tunnel, per Snapchat.
Voice-controlled Lenses will also respond when you say "wow." In fact, Snapchat provided two videos that show what'll happen when you say it, and they're both different. In one video, a bunch of comic book-like "wow" stickers popped up in the background after a Snapchat user verbalized the term. In the other, the entire screen bounced inward, and you could hear a voice quickly saying, "Woah!"
Of course, I saved the "love" Lens for last (it's really cute, OK?). If you say "love" into the voice-controlled feature, a wave of hot pink leaves will fall across the pink-hued screen, and jazz music will start playing. It's pretty adorable, and perfect if you want to send a romantic greeting to your boyfriend or girlfriend via Snapchat.
If you can't find these Lenses yet, don't worry — they were rolled out globally by Snapchat on Aug. 1, so make sure your phone is updated. They will then be featured in the Lens carousel periodically, so keep an eye out for them while you're snapping. Once you've gotten ahold of a voice-controlled Lens, an on-screen prompt will appear and help you use it. Follow the company's lead, start talking, and have fun.