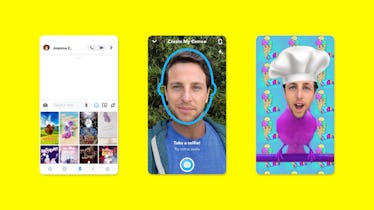 You Can Star In Your Own Memes With Snapchat's New Cameo Feature
Courtesy Of Snapchat
Snapchat is taking your Snaps a step further with the ability to place yourself in some hilarious videos. Snapchat's Cameo feature is available for users across the globe, and it basically lets you star in your own meme-like video. Here's what you need to know to get started.
Cameos were released in December 2019, and they're a fun way to switch up your Chat by putting your face in a video of a cat or in the front seat of a music video-worthy sports car. To begin using Cameos, you'll first need to take a selfie, which will be your "Cameo" in the videos. To create your first Cameo Selfie, open any Chat in the app, tap the smiley face icon next to the chat box, and then tap the icon of a face outline with a plus sign at the bottom of your screen.
Once you're in the Cameo sections, select any Select a Cameos tile and take your selfie. If you don't like your first selfie, you can change it when the option to take another pops up. You only have to take a selfie once, and then it will be used for every Cameo you create from there on out (until you decide to take a different selfie). When you get started, you can also choose to enable two-person Cameos when prompted. This means if any of your friends on Snapchat have their own Cameo selfie — and have also shared it — you'll be able to see their selfie available for a dual Cameo.
When you have your Cameo selfie set up, you can start creating Cameo videos to share in all your Chats. The process is similar to creating your Cameo selfie. First, open a Chat between you and a friend, and then tap the Smiley face next to the chat bar. You'll find the Cameo icon at the bottom of your screen, but it'll no longer have a plus sign, since you already created your Cameo selfie. To send a Cameo, you can browse the different video options before selecting the one you want to send.
Before sending, you can preview your selected Cameo by tapping the "More" button and selecting "View Full Screen." You can also choose to put text in your Cameo if it's available on your selected clip. Once you have it set to your liking, you can hit "Send." To save a Cameo for yourself, press and and hold the video in your Chat, and then tap "Save to Camera Roll."
To change your Cameo Selfie once you've taken one, just follow the same steps you used to create one, and then select "More" and "New Selfie." There are approximately 150 different Cameo options to choose from on both iOS and Android. With a long list of scenes to express your mood, you might never want to chat in the app without Cameos again.
This article was originally published on