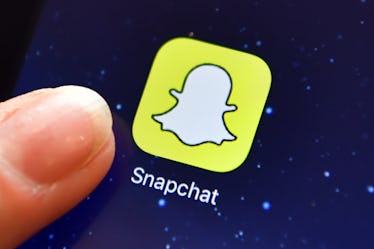 Snapchat Is Changing Its New Layout & Hopefully Everyone Likes It This Time
Carl Court/Getty Images News/Getty Images
All political matters aside, it's safe to say that Snapchat's redesign drew more criticism than anything else in early 2018. While a few technologically-savvy users loved the app's reorganization earlier this year, most were completely baffled and frustrated by its seemingly-drastic changes. As a result of all the criticism, though, Snapchat is reportedly redesigning its new layout to look more like the old version. I just hope it'll make everyone happy this time.
A Snapchat spokesperson tells Elite Daily that the app is rolling out an update to the majority of Snapchatters on iOS. The update puts users' Snaps and Chats in chronological order again, and moves Stories from friends back to the right side of the app. They've also added a separate Subscriptions feed, making it easier to find Stories from creators and celebs. Stories, however, are still separate from professional content. Overall, it sounds similar to OG Snapchat, and I'm definitely not complaining.
Snapchat reports that their current update is rolling out to "the majority" of iOS users as we speak, so get your iPhones ready to rumble. I'm not entirely sure what any of this means for me as an Android user, as they still haven't mentioned a new version for anything other than iOS. But, c'est la vie — that's what I get for using an alternative device in an iPhone dominant society, I suppose.
According to The Verge, Snapchat reported that their redesign earlier this year didn't helped them make any money. Following the apparent loss of money, Snapchat CEO Evan Spiegel announced the newest version during the company's first quarter earnings call earlier this month, on May 1. Spiegel also noted what was to come with the new version, and how it'll affect user experience.
Per The Verge, during the earnings call, Spiegel said,
We learned that combining watching Stories and communicating with friends into the same place made it harder to optimize for both competing behaviors. We are currently rolling out an update to address this by sorting communication by recency and moving Stories from friends to the right side of the application, while maintaining the structural changes we have made around separating friends from creators and sorting friends' Stories by relationships.
Earlier this year, Snapchat's big update aggravated so many users, that over a million people angrily signed a petition in order to get the old design back. Spiegel even came out and admitted that "it'll take time for people to adjust," and it didn't seem like the company was even slightly considering a redesign... until now, of course.
My thoughts and prayers go out to all of the Snapchatters who are still confused by the update from earlier this year, and I really hope this new update helps them out. My dear mom, for example, angrily threatened to delete Snapchat if the app didn't change back to its original version. Hopefully this redesign will change her mind. When she gets the latest update on her end, it'll be a Mother's Day miracle.
Apparently, some users had starting adjusting to Snapchat's previous update, and I guess this new redesign is coming as a major shock. I, however, am so about this latest and greatest change. Snapchat, you really nailed this one.
Maybe you loved the previous Snapchat update, or perhaps it irked you to no end. Regardless, this new version is destined to be a total glow up, and I'm so about it. Even though constant change can get somewhat frustrating, it's good to know that Spiegel is looking out for us Snapchatters. Hopefully this new-new update will make everyone happy, and if not, everyone can just work to re-adjust like last time. Or maybe they'll start another petition. Who really knows.