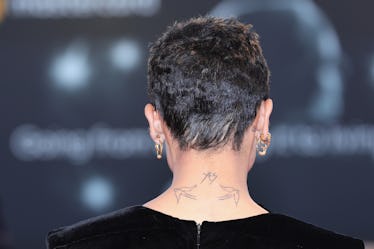 These Small Zodiac Tattoos Will Help You Rep Your Star Sign In A Non-Basic Way
Vittorio Zunino Celotto/Getty Images Entertainment/Getty Images
If you're looking to get inked sometime soon, doing some research on small zodiac tattoo ideas might be a good place to start. The obvious reason is that the tinier tattoo, the less pain and commitment. But by getting a zodiac-related tattoo, specifically, as your first, you're also ensuring that its relevancy won't dwindle as the years go on. Your astrological sign now will be your sign for forever, meaning it's personal, timeless, and symbolic. Another choice—say your significant other's name, a quote you love, or something related to your current idol—might not hold so much weight in ten years. Heck, you might even grow not to identify with it or even worse, to hate it. Star signs are where it's at.
Of all six of my tattoos I would only classify one as small but I love it for its subtlety and secretiveness. It rests on the inside of my right pointer finger and is the only one that people aren't constantly asking "Why'd you get that?" about. What's more, small tattoos look good on literally any part of your body so no matter where you want your first one to reside it'll fit with little hassle.
Below, I picked out a rad zodiac tattoo for each sign to help aid your art selection. I follow scores of rad artists on Instagram (it's a sickness—their stuff is so good that I get a new tattoo craving every day) so if you see something you like make sure to check out their page for more inky inspiration.
Aries
Female Aries, you will never find a cooler tattoo idea than this ram-slash-female reproductive system mashup. Girl power at its finest.
Taurus
Smart, ambitious, and trustworthy, a natural tattoo for Tauruses would be a tiny lightbulb, which in itself represents intelligence.
Gemini
Geminis are known for having two sides to their personalities, much like a sandglass. Expressive, quick witted, sociable, and fun, they can turn on a dime into their more serious and thoughtful selves. This tattoo represents that dichotomy of how they split their time.
Cancer
Ruled by the moon, Cancers are deeply emotional and intuitive. They care immensely about those they are close to and are supremely sympathetic, and they also have insatiable wanderlust. The lunar phases of the moon in mini form somewhere discreet would be an excellent way for Cancers to pay homage to their silvery mother planet.
Leo
And then we have Leos, who are ruled by the sun and are said to be outgoing, attention-loving, energetic, egoistic, and big-hearted. The flower associated with Leos is the sunflower, which makes this tattoo an obvious choice. As a Leo myself I can say that the sunflower has always resonated with me on a deep level as one of the happiest and most uplifting plants out there. Sunflowers are my favorite flower and no one does flowers justice better than this artist.
Virgo
The symbol of Virgo is a maiden holding a stalk of wheat. Getting a super dainty stalk of wheat similar to the above plant would be a delicate and beautiful way to reference it.
Libra
Libras are said to love kindness, harmony, peace, and balance, which is why the above tattoo featuring a brain and heart would be a cool way to interpret the sign artistically. It represents the balance of logic and heart and acknowledges that one can't function without the other.
Scorpio
Known as one of the most passionate of zodiac signs, Scorpio's love to love—a tiny heart would therefore make for the perfect subtle tattoo for the sign.
Saggitarius
This tattoo idea would work for any zodiac sign, but pictured above are the Leo and Sagittarius constellations. Get them without lines in between for an especially subtle effect.
Capricorn
Grounded, practical, patient, and disciplined, Capricorns often live their truth by nature.
Aquarius
Aquariuses ten to be unpredictable, intelligent, independent, and curious. Their hunger for knowledge plus the fact that their ruling planet is the ringed Saturn makes this stellar planet tattoo (left) perfect.
Pisces
Pisces is a water sign, and individuals within the sign are often characterized as empathetic and intuitive. They're also artistic, which makes this creative water-inspired tattoo all the more relevant.