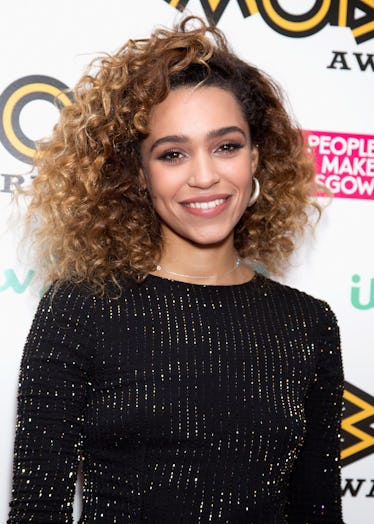 Singer Izzy Bizu Reveals Her Surprising Favorite Part Of Her Beauty Routine — EXCLUSIVE
Jo Hale/Getty Images Entertainment/Getty Images
Silly. That's how 24-year-old singer Izzy Bizu describes herself when I ask her to fill in this blank: "Yes, I am _____?" And after spending just five minutes with her, you can easily tell how true that is — in the best way possible. Whether we're talking Bizu's skincare secrets, her beauty routine, or her upcoming album, there's always a story with laughs attached to it.
It seems Bizu knows this about herself all too well. "I'm the most annoying person to wake up to. I will jump on you, like 'AHHH!' I would make someone jump out the bed," she tells me as we lounge on a couch at the YouTube Space in New York, admitting how silly she can be. "I just need to make sure I just go in another room in the morning, and just eat my breakfast by myself."
Silly, bubbly, and seemingly confident and outgoing as ever, it makes sense Bizu is the newest face of French-favorite Cacharel's new fragrance, "Yes I Am" ($58 for 1.7 ounces, macys.com). The brand's new scent is meant to embody the point in a woman's life where she's courageously and independently coming into her own, and the perfume does so in several ways. At first glance, the bottle itself — which mimics a tube a bright, bold red lipstick — uniquely depicts a staple in many a beauty lover's makeup routine, Bizu included. When I ask her what part of her beauty routine makes her feel most confident, she says without hesitation, "Lipstick does that."
Though Yes I Am's physical design may be unique, the aromatic design incorporates something you've likely never seen — or even expected — in a fragrance: "spicy cremoso." According to master perfumers Honorine Blanc and Christophe Raynaud, this particular scent is the first of its kind to present the "unexpected contrast between a sensual creamy accord and the power of a spicy cardamom." While you might think a cardamom-infused fragrance would pack a little too much punch, the spicier notes are, indeed, balanced by the delicate scents of raspberry, mandarin, ginger flower, gardenia, and jasmine.
"[Yes I Am is] not just one thing. It's a spontaneous, collaboration of different moods. It's sweet, but strong, sensual. You smell something different every time," Bizu says via a press release. "It's not at all like anything I've smelt before. When I put it on, I feel quite empowered, like I've finished off my routine. I'm ready to go out, take on the world."
The richness of Cacharel's new scent is a huge part of why Bizu is drawn to it — she's essentially grown up with rich scents and flavors, thanks to her mother. "I like musk because my mom's food is very rich, and when she makes teas, it's very rich," she tells me. "She always smelled rich, and she's always spraying the house with something."
Bizu's mother, who's Ethiopian, has inspired a number of Bizu's own tastes and routines, including her skincare routine. Growing up, Bizu spent a good amount of time in Ethiopia, and she tells me that, in "the deep South," the people "have the most beautiful skin, because they use all-natural things." Thus, Bizu says she'll often use some of her mother's homemade concoctions — from ground coffee water as a facial cleanser to coconut oil on the skin — in her own skincare routine, "and it is amazing."
As much as any of us love a good skin pampering sesh or that moment when you swipe on your fave red lipstick and feel like you could conquer the world, Bizu's favorite part of her own getting ready routine might surprise you — but it'll make you say "hard same" nonetheless.
"I love being in the shower. I could stay in there all day — I love it!" she tells me with the biggest smile. "You put music on, you dance around ... Sometimes, I even put Netflix on, because I've got a washing machine in my bathroom. So I watch Breaking Bad, and I put my laptop there and have a shower." Replace Breaking Bad with Keeping Up With The Kardashians, and I swear to you, I, too, would shrivel up in the shower for hours.
When she's not watching Breaking Bad in the shower, however, Bizu is taking the world of music head-on. In her short career, she's already worked with some of the biggest names in music for the production of her album A Moment in Madness, including Ian Barter, who's worked with Amy Winehouse; Jimmy Hogarth, who's worked with Sia; and Dan Grech, who's worked with Lana Del Rey. In fact, one of Bizu's hit songs on that album inspired Cacharel to partner with her in the first place.
"They reached out to me because they really liked my song 'White Tiger,' which is one of the first songs I've ever written," she says. "They wanted that in the advert, and then, they saw my Instagram, and they wanted me to get involved and be the ambassador."
Just add "Cacharel Ambassador" to the growing list of accomplishments Bizu has already conquered, making my 24-year-old accomplishments look like child's play. The "Diamond" singer has already opened for the likes of Sam Smith and Chris Martin, even performing "Someone That Loves You" with Martin at her own show back in summer 2017.
I think it's safe to say that, just as Cacharel's Yes I Am fragrance represents, Bizu has come and still is coming into her own with her music. As she describes, it's an ongoing process for her, as she's "constantly evolving into something," when it comes to what she creates. "There will be one moment where I'm like, 'Yeah, this is really me.' And then, you're just like, 'Oh, I'm somewhere else right now,'" she explains. "And I think it's really important not to be like, 'I need to carry on being [one thing]' when you actually evolve into something else."
While Bizu has only just started work on her next album, it seems like fans can expect it to mimic the vibes of the Yes I Am fragrance, believe it or not. "I feel like it's gonna be quite warm," she says.
As we all reach a point in our lives where we, too, feel as though we're evolving into who we're meant to be, I think it's only appropriate to take a cue from Bizu and ride our evolution, wherever it takes us, confidently and powerfully, just as Cacharel's Yes I Am (available at Macys.com and Dillards.com) urges.