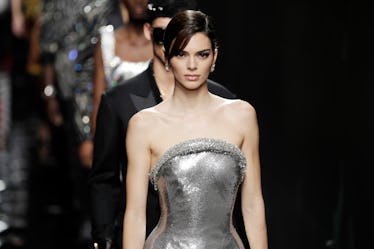 This TikToker Got Real About Which Celebs Were Rude AF At The Airport
John Phillips/WireImage/Getty Images
The TikTok tea is scolding hot — and I don't mean just with the app's biggest stars. Anyone who has ever traveled knows how stressful flying can be, but SinCindy's TikTok reviews of celebrities' airport behavior will make your jaw drop. Whether she caught them on a bad day or not, Cindy's insight on celebrities' airport etiquette — including that of Nicki Minaj, Kendall Jenner, and Chris Evans — is all over the place.
It all started on Aug. 1, when TikToker Cindy (@_sincindy) started rating famous people she's met while working at Los Angeles International Airport, aka one of the busiest airports in the entire world. During her first video, Cindy gave Minaj a 2/10 rating, claiming, "She wouldn't get off the aircraft until everybody else got off, which she can't do because the flight attendants need to get off." (Minaj's team did not immediately respond to Elite Daily request for comment on Cindy's rating.)
Cindy noted she was a fan of Minaj before the encounter, but now she's not. The customer service rep's second video started with her recap of her experience meeting Jenner, whom she also rated a 2/10. Cindy claimed that "every time" Jenner flew out, "she was not really friendly to anybody and just walked around really arrogant." (Elite Daily reached out to Jenner's team for comment on Cindy's rating, but did not immediately hear back.)
Not all of her encounters have been negative, though. One celeb who made a good impression on Cindy was Dakota Johnson, who scored a 9/10 for being "super polite" and laughing off the fact that she once forgot her passport.
Cindy said she "still can't believe" she met Chris Evans, whom she rated an 8/10 for trying to stay "low key" while he traveled.
In Part 3 of Cindy's series, Noah Centineo scored a 10/10 for being "super nice" and "super friendly." More celebs who ranked 10/10, according to Cindy, were Robert Pattinson, Jeffree Star, Bad Bunny, and Chris Hemsworth.
You can check out all of Cindy's videos below.
Fans are definitely counting on Cindy for more videos in the future.