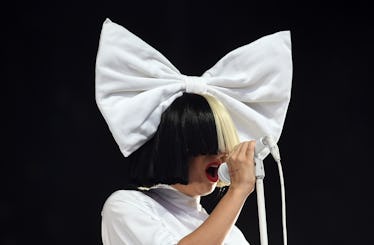 Sia Just Dropped 3 New Christmas Songs That'll Fill You With Holiday Spirit A Month Early
Stuart C. Wilson/Getty Images Entertainment/Getty Images
Now that Halloween is over and it's officially November, I don't feel even slightly guilty to start thinking about the holidays. Sure, Thanksgiving isn't for a few weeks, and Christmas is nearly two months away, but who cares if I want to start spreading holiday cheer early this year? And apparently, I'm not the only one (so don't @ me), because Sia's new Christmas songs have been released and will totally get you in the holiday spirit — so polish off the rest of your Halloween candy and break out your Santa hats, people.
On Thursday, Nov. 1, singer, songwriter, and producer Sia released three holiday songs as bonus tracks to her 2017 holiday album, Everyday Is Christmas. While one song, "Round and Round" is a cover of Perry Como's song, the other two songs are originals.
And look: I know that it's a tad early to start listening to Christmas music (I mean early to you, not to me. I can play it year round and not get tired of it). But hear me out, because Sia's songs are so far from the traditional holiday music that you're used to hearing. If you didn't listen to the lyrics, you'd think that it was just another average track from a non-holiday album. If you don't believe me, take a listen below. Trust.
"Round And Round"
OK, you guys. I'm really digging this upbeat bop, and the whole vibe just puts me in a cheery mood. And it's not even that Christmas-y! Some of the lyrics go:
In the night, you see the lights and moon (the moon), Goin' round and round in tune (in tune), And the ball of snow in the day (day), Makes them all wanna say, Find a song (find a song) and sing it round, round, round, And with ties so strong, (oh) your hearts are bound, Hold them near (hold them near) the ones you found, found, found, For you know that this is really love
You have to admit that this cover is catchy AF.
"My Old Santa Claus"
This might be my favorite of the bunch. It's still got an upbeat and cheerful sound, but the lyrics show a different story. It kind of reminds me "Blue Christmas," if it was made in 2018. Sia is crooning in this track, and it makes me feel all the sentimental feels. Some of the lyrics go:
Oh, it's so chilly without you near me, My everyday Santa Claus, So baby come quickly, You're starting to leave me, I need my old Santa Claus, Well, if this is what the season is bringing, then I got to shoot through, I got to shoot through, Cause if Christmas is so green and so red, then why am I so blue? Why am I so blue?
Playing this one of repeat for the next two months, NBD.
"Sing For My Life"
Another instant holiday classic, if you ask me. This definitely has a Sia feel to it, but still keeps that Christmas spirit with the story the song tells.
Love is the hardest, love is a battle, Oh, love brings out the best, the worst in my shadow, No, love is the greatest gift, let's kiss under the mistletoe, Love is the greatest gift, let's kiss under the mistletoe, Love is the greatest gift, let's kiss under the mistletoe
Don't even play — you really like all of these songs, and nobody can blame you! So go ahead and listen to them over and over. Who cares if there's still fake cobwebs and pumpkins decorating your place? Christmas is coming!
Let the countdown officially commence!