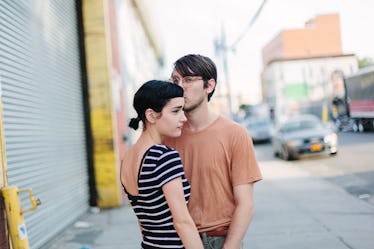 5 Signs You Could Do Better Than Stay In Your Long-Term Relationship
Are you familiar with the concept of the sunk cost fallacy? It comes from economic theory, and it's the idea that a person is more likely to stick with something if they have invested a lot of resources, time, or effort into it — even when it's obviously failing. Can you guess where I am going with this? If you've ever wondered if you should you stay in your long-term relationship and decided to stick it out, not because you are happy and fulfilled, but because you've already put in so much time and energy to make it work, you are falling prey to this same fallacy. Don't feel bad, I've totally been there too. I've definitely overstayed relationships that weren't working because I didn't want to have to start all over again with someone new. But if this is sounding awfully familiar, it's time to stop and seriously think about whether or not you are just settling, or if you could do better with someone new.
Being honest about the state of your relationship can potentially be a scary proposition, but there are some signs that will help you determine if your relationship is just in a lull or if you're settling for something that will never work. To help recognize the difference, I reached out to the experts. Here is how they say you'll know if it's time to throw in the towel on your current LTR, because you can do better.