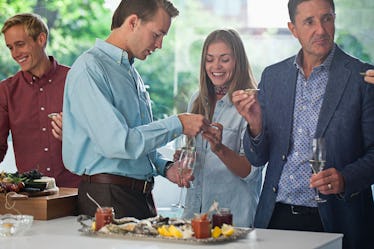 Here's When You Should Get Your Partner's Dad A Father's Day Gift, According To An Expert
Holidays are always a bit more complicated when you're in a relationship. Like, whose house will you celebrate at this year? Or which traditions will you include each other in? For the big ones like Christmas and Thanksgiving, it's a little more clear, but when it comes to the smaller and more personal holidays, it can actually get even tricker, particularly when it comes to holidays like Father's Day. Like, for instance, are you supposed to get your partner's dad a Father's Day gift if you've been together for a while? What if you are really close to your SO's family and you want to celebrate that? Or is it ever really appropriate to be a part of a holiday like Father's Day, which focuses on celebrating a very specific relationship?
Honestly, the etiquette just isn't clear. So, to help figure out what's appropriate when it comes to giving gifts to your partner's father on Father's Day, I reached out to NYC relationship expert Susan Winter, who had some really helpful insights. Turns out, the answer is... it's complicated. According to Winter, it really is all about three things: how long you have been with your partner, what your relationship with their family is like, and what your motives are in giving the gift. So, here's what Winter says about knowing if the time is right, and when to wait on giving them a gift.