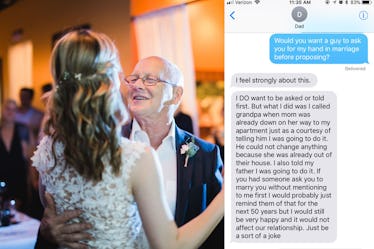 Here's What Dads Really Think About Being Asked For Their Daughters' Hand In Marriage
The tradition of your partner asking your father for your hand in marriage before they propose might feel like an antiquated ritual to some couples, but for others, asking permission is an important sign of respect going into the marriage. Every romantic and familial relationship is different, so of course there isn't one set way to ask dads for her hand in marriage. Some fathers just want to be given a heads up, while others would prefer to be explicitly asked.
Personally, I do feel that this is an old-fashioned practice. I would hope that when the time comes, my significant other will have a strong enough relationship with both of my parents that the news won't feel like a surprise. It would be sweet of them to discuss it beforehand, but I don't think a formal ask is completely necessary. After all, I'm a person, not a business transaction.
While I am curious how other women around my age feel about this issue, I'm even more interested in knowing what fathers themselves think. So, I had 10 different dads offer their honest opinions on the matter. From the protective dad to the friendly would-be father-in-law, here is what each father had to say.
This dad feels strongly about being clued in before it happens.
— Bob, 60
This father believes his daughter's happiness should always come first.
— Edgardo, 56
This dad wants his daughter to ask him for his opinion, not his permission.
— James, 65
My dad wants to know his future son-in-law is committed to me, but doesn't necessarily need to be asked before the proposal.
— David, 62
This dad feels that it's an archaic ritual, and has confidence in his daughter's decisions.
— Jack, 61
This father would be impressed by this traditional demonstration of respect.
— Matt, 60
This father says that although his daughter's fiancé did ask for his permission, it wouldn't have made a difference if he had not.
— Jimmy, 56
This dad thinks it would be a nice gesture, although it is old-school.
— Rich, 55
This father doesn't need to be asked, as long as the man knows to never hurt his daughter.
— John, 56
This dad hopes that he approves of the guy, but doesn't need to be asked for permission.
— Joe, 59
As with any old-school tradition that has been brought into the 21st century, there are going to be differing opinions on how to execute this less-than-modern ritual. For some dads, it's all about the respectful ask before proposing, while others just want to have a solid relationship with their daughter's soon-to-be fiancé. And while these 10 dads may not all be on the same page about whether or not they'd like to actually be asked permission for their daughter's hand in marriage, these fathers are all in agreement on one major fact. Above all, the most important thing to these dads is ensuring that their daughters are going to be happy, safe, and loved for the rest of their lives.
This Father's Day, consider talking to your own dad or another father figure in your life about his feelings on proposals, marriage, and more. Let him know that his opinion on your current and future relationships truly matters to you, and express how much you appreciate that he's always been there to protect your heart.
Check out the "Best of Elite Daily" stream in the Bustle App for more stories just like this!