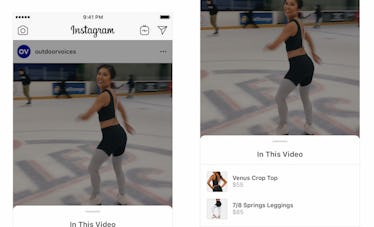 Shopping In Instagram Videos Is A Possibility Now, Thanks To This Major App Update
Courtesy of Instagram
The holiday season is finally approaching, which means it's time to start shopping for your family and friends. As you probably know, it can be tough to spend hours upon hours searching department stores for the perfect gifts. Thankfully, Instagram added a handful of shopping features that'll help users discover and purchase various products on the spot. One of the new features added to the app on Nov. 15 makes shopping in Instagram videos a possibility, which means you can scroll through your Instagram Feed and easily buy that *perfect* sweater that's featured in the video you just saw.
In other words, get your wallet ready — because shopping on the 'Gram just got a lot more convenient. Before I get into the brand new video shopping feature, let me take a step back and recap the Instagram shopping assets that have already existed. As you probably remember, the app released shopping capabilities in September 2017 that included product stickers and a shopping channel in Explore. The company's newest shopping features take splurging on the 'Gram to a whole new level, though — and once you figure out how to use them, you'll get your holiday spending done in no time.
As I previously mentioned, the new shopping feature I'm really excited about is capability to buy products straight through Feed videos. For reference, "Feed" videos are the videos that your favorite brands post onto their grid, as opposed to the videos that they post in their Stories. Once you scroll through your Instagram Feed and see a video that was posted by your favorite brand, you can actually take a deeper look into the products that the video is featuring and make a purchase.
So, how do you do it? Luckily, the process is super simple. Once you see a video that's featuring a product that you *must* have, you can tap on the shopping tag in the bottom lefthand corner of the post. After you tap on the icon, the products within the video will be revealed and you can learn more information about them. It's literally that easy, guys. Now, when you're scrolling through your IG Feed and a video catches your eye, you can do you holiday shopping straight from the post.
Do you know what I have to say about that?
Shopping in Feed videos isn't the only spending feature that Instagram unveiled. The company has also made it possible to save your "wishlist" items in a Shopping collection. In other words, if you see something you want to buy while scrolling through your Feed, you can save the item in your Shopping collection for later. That way, you can go back and purchase the item without forgetting who posted it.
In addition to the Shopping collection, Instagram also welcomed the ability to shop on business profiles. Now, a redesigned "Shop" tab is being tested on various brands that'll show a complete list of the products that they're currently selling. That way, you can browse through products without needing to scan through the page's posts.
As you can see, Instagram is making it super easy to shop for others (and yourself) via Feeds, business profiles, and, of course, Stories. Now go ahead and treat yourself to the company's newest spending features.