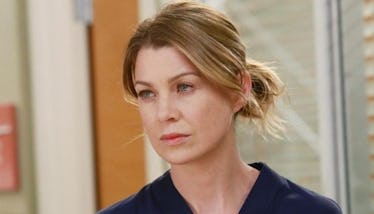 Shonda Rhimes Quotes About Meredith's Love Life Will Surprise 'Grey's Anatomy' Fans
ABC
Nowadays, Grey's Anatomy creator Shonda Rhimes isn't involved in the daily minutiae of the medical drama, seeing as she's a little busy casually taking over Netflix's platform for original programming. She may rely on showrunner Krista Vernoff for delivering strong storylines now, but Rhimes still has a soft spot for Meredith Grey ahead of the character's search for new love in Season 15. These Shonda Rhimes quotes about Meredith's love life will surprise anyone who may believe that Rhimes prefers her shows to highlight romance rather than reality.
Nearly four years after Meredith's husband Derek Shepherd died in Season 11 of Grey's Anatomy, the upcoming Season 15 has been pegged as the "season of love." Meredith's quest for lasting love is finally going to be taken seriously this year, and although the series almost forced her to pair with someone immediately after the loss of Derek, Rhimes found Meredith's time on her own essential for the character. Speaking to Entertainment Weekly recently, she said:
After Derek left, it was about really allowing Meredith to stand on her own two feet and figure out who she is and make it more about her career and not about who she's gonna date. Ellen [Pompeo] also had strong feelings about that. I don't have strong feelings about what I want to have happen to her. I do have strong feelings about any one of my female characters basing her existence on whether or not she has a man.
This belief does sweetly align with some earlier, classic moments of Grey's Anatomy. Cristina Yang was particularly aware of her own strength, calling herself brilliant rather than beautiful and reminding Meredith that she was "the sun." While much of the show's drama revolves around love, the women are also given storylines emphasizing their medical specialities and other professional endeavors. Sure, Meredith initially seemed like she was missing a part of herself right after Derek's death, but she's become a fierce leader at the hospital since then. Somewhere in Switzerland, Cristina is definitely proud.
As Ellen Pompeo signed a two-year deal with the series that would carry her through an unconfirmed sixteenth season, both she and Rhimes have spoken to press about contemplating how Grey's Anatomy could end. It's clear by Season 15's promotion that ABC is gearing itself for an ultimately happy ending, particularly for Meredith, but Rhimes is unsure about the direction she and Vernoff will take for a series finale. She told EW:
I have written the end of the show at least six times. Seriously, every time I felt like, 'this will be how the show ends,' we've gone past those moments so many times that I've stopped trying to come up with envision for it. We just don't end. I have no idea now.
Depending on how her love story goes this season, Meredith may end the series with a man at her side, but we haven't stuck with her for more than a decade just for info on her marital status. As Rhimes reminds us, seeing a female character thrive with or without a guy is why Meredith has earned a spot in fans' hearts for so long. Her love life is only a bonus for viewers, right?
Season 15 of Grey's Anatomy premieres on Thursday, Sept. 27, at 8 p.m. ET in a two-hour episode on ABC.