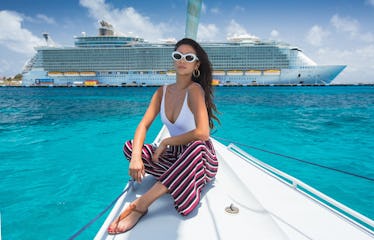 Shay Mitchell's Spring Break Plans Will Give You Extreme Wanderlust — EXCLUSIVE
Royal Caribbean International
Is there anything Shay Mitchell can't do? The answer, it seems, is an infallible no. As an actress, model, and entrepreneur, Mitchell rose to fame for her portrayal of character Emily Fields in the Freeform series Pretty Little Liars, and will soon be seen on movie screens later this year in the thriller film, Cadaver. While you can catch her performing on a TV or movie screen, you can also find her on your computer screen, sharing travel tips. Shay Mitchell's YouTube channel, Shaycation, is a destination-inspired series that shows Mitchell doing adventurous things like skydiving in Africa, snorkeling in Hawaii, and hot-air ballooning in Morocco (no big deal). One could say that, yeah, she's totally living her best life. And now, Mitchell has teamed up with Royal Caribbean as their first-ever "Adventurist," or — as she likes to call herself — "storyteller for the cruise line," acting as their ambassador to show fans the perks of cruising around the world. If her epic travel plans still haven't yet sold you, I promise that hearing Mitchell's spring break plans will have you booking a trip in record's time.
So, what's it like having a job that takes you to destinations that most people only often dream about? For Mitchell, it just seems right, like she's truly found her niche. As an avid traveler, she's inspiring others to hone in on that sense of wanderlust, and to take every measure possible to check off all those places on your bucket list (come on, you know we all have one).
Now, Mitchell is sharing everything about her new (and envious) role, as well as revealing how an "Adventurist" plans to spend her spring break (think: Less Mexico, more Mediterranean). She says,
Spring break for me is going to be in April — also my birthday month, and also when Royal Caribbean is launching their newest ship, Symphony of the Seas. That's going to be leaving from Barcelona, so, to be honest with you, that's the only thing that I have on my mind. It's going around the Mediterranean and that's lookin' real nice.
It's looking pretty nice from where I'm standing, too.
She also reveals that the one thing she can't live without on her vacations — spring break or otherwise — is her phone, saying, "I capture so much on my phone, I'm listening to music on my phone, or I'm videoing, I'm getting photos," which I think pretty much everyone can relate to. In a social media-saturated world, did you even go on a vacation if you didn't post about it?
While Mitchell loves to jet-set around the world, she also reveals the beauty and luxury of a staycation: Staying at home to lounge around, enjoy an empty itinerary, and do the things you don't always get the chance to do while you're busy balancing work and everyday life. She says,
For me, going to the flower market, getting new flowers and greenery, and really just making your home look its best for you. Lighting candles, having a playlist going, having mood lighting, but not even needing to do it for anybody but yourself. That in itself can be a staycation, you know?
Mitchell also notes the importance of exploring the areas around your hometown, too, encouraging everyone to "jump in your car and explore the city that you're in."
So, while we may not all be as fortunate as Mitchell to roam the world on a ship that's packed with activities while en route to a new destination (Mitchell admits that "the Canadian side of her" decided to go ice skating on the ship, Oasis of the Seas, though she hilariously notes she wasn't as good as she anticipated) we all have the advantage of exploring the unnoticed details of the streets we walk down every day.
And about that cruise collaboration: She calls her partnership with Royal Caribbean "an organic, perfect fit," because of the importance the role traveling plays in her life, shown throughout her Shaycation series. She says,
To be honest with you, Shaycation just came from my love of travel ... For some people who may not be able to travel to these far-out destinations, I feel like in a way I'm getting to bring them along with me, so it's not just me getting to enjoy it, people can see and add more things onto their own bucket list.
Hey, if Shay Mitchell can't take us with her, at least we can live vicariously through her journeys, right?
If you're like me, you look at a traveler like Shay and think, "OK, but what kind of sorcery do you perform in order to look so put together while also having jet lag?" (Seriously, if my plane ride is more than a few hours long, I will step off that runway having scales.)
Her advice is quite humbling, admitting that she's less focused on her appearance, and more focused on the destination itself:
I don't want to be spending the majority of my morning applying makeup for an hour. That's not something I want to do. There's so many things I want to do and see when I'm traveling that I want to be really quick when it comes to getting ready and doing my makeup.
But don't get Shay wrong: Come nighttime, she's willing to play around a bit more when it comes her makeup routine after the sun goes down, saying she has "more fun when [she's] getting ready to go out at night."
Her other secret weapon is any product with a dual purpose, like "sunscreen that also has a foundation to it, so it moisturizes, has SPF, and can also be used as a light foundation."
Note to self: Find this product, buy it, apply it, then cross your fingers that you miraculously turn into Shay Mitchell.
Beauty aside, Mitchell proves that she's dedicated to continuing down a path that's filled with new places and adventures, and is excited for her fans to see where her partnership with Royal Caribbean takes her (with the second part of her Royal Shaycation series just recently airing), saying that she's here to "inspire the next generation of millennial travel."
Consider my next vacation booked.
To see more of Shay Mitchell's travels, you can visit her YouTube channel.