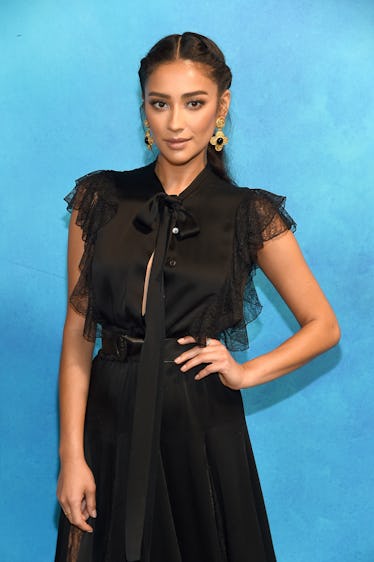 Shay Mitchell Just Dropped A Line Of Pretty Little Travel Bags & They're Affordable AF
Dimitrios Kambouris/Getty Images Entertainment/Getty Images
Forget about the idea that quality travel bags have to cost you an arm and a leg — that's total BS. You know it, I know it, and Shay Mitchell's BÉIS travel brand knows it. It's why the new label, which offers a slew of really good-looking and really good-quality carryalls, was launched with a price range of $12–$83, so you can spend all the extra money you saved on things that actually need to cost a lot. Like flights. And hotel rooms. And lots and lots of foreign food. Can I get an amen?
I didn't watch Pretty Little Liars but I do follow Mitchell on Instagram and always seek out her content. For one, the girl is a fitness inspiration, and I need as much of that as I can get in my lazy life. But more importantly, she is also is an avid traveler, and even has her own YouTube series called "Shaycation!" in which she explores a new destination in each episode. In short, she knows a thing or two about taking planes, trains, and automobiles and just exactly what makes an ace travel bag stand out. And now, she's taken that knowledge to create a range of seven carryalls to fit every need.
Within the initial drop of the collection is The Duffle, The Weekender, The Backpack, The Dopp Kit, The Cosmetic Case, The Passport Holder, and The Luggage Tag, all of which were released via Nordstrom.com and on BÉIS' site. While The Dopp Kit and The Cosmetics Case are already sold out at Nordstroms, they're still available through BÉIS directly. Each bag was made with total convenience and ease at mind, featuring cool details like trolley straps (which let bags hook over the handles of rolling suitcases), smarter zipper placements, and more.
As if that wasn't enough, BÉIS has also teamed up with Girl Up, an organization founded by the U.N. that seeks to support female empowerment and education, and agreed to donate a portion the proceeds of every product sold to their global leadership development initiative. Girl power, indeed!
Checkout the brand's first collection below and get started on deciding which of your bucket list trips you want to book next.
The Duff
This duffle is some kind of magic. For one, it zips all the way down the side so that rather than stuffing your clothes in through the top, you can slide them in folded. It also features a padded laptop compartment, side-zip compartment, and one of those handy trolley straps (click on the link and you'll see what I mean). Oh, and did I mention it's waterproof? She really thought of everything.
Shoulder It
Minimal and sleek, this weekender features a bottom-zip shoe compartment and, of course, a padded laptop pocket. Exterior zip pockets and a water-resistant material make it extra perfect.
Tag, You're It
Available in eight fun colors, this luggage tag and passport holder set combines style and function flawlessly. The passport holder even has built-in slots to hold your credit cards and other IDs in, meaning your carry-on is about to get a whole lot less cluttered.
Got Your Back
I chose the interior photo for the backpack to show you just how spacious and smartly divided it is, but don't worry, the outside of it is super cute. Featuring an interior laptop pocket, exterior zip pockets, water bottle pockets, and smart interior storage compartments, this waterproof bag is ideal for park picnics and traipsing around Thailand alike.
Small But Mighty
The Dopp Kit features two zip tiers and one interior zip compartment to ensure all of your serums and gels stay in place, all within a simple black design.
Tool Kit
The Cosmetic Case, which looks like a chic adult lunchbox, features a brush storage section, an interior zip pocket, and a main cavity. There's room for all of your day-to-day makeup products and more.