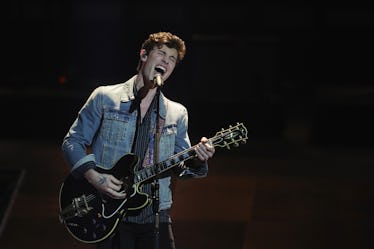 Shawn Mendes Performed "In My Blood" Surrounded By White Roses At The BBMAs
Andreas Rentz/Getty Images Entertainment/Getty Images
It's shaping up to be a pretty awesome year for fans of millennial pop stars hungry for new music. At the 2018 Billboard Music Awards on Sunday, May 20, Shawn Mendes wowed the crowd with a rendition of a brand new song. Shawn Mendes' "In My Blood" 2018 Billboard Music Awards performance was rosy — quite literally.
Mendes' performance couldn't come at a better time, either. His third full-length studio album, Shawn Mendes: The Album, will be released on May 25, per Billboard. So seasoned fans and newcomers will have an entire new pool of music to sift through in just a few days after Sunday night's awesome rendition of "In My Blood." The 19-year-old superstar's highly-anticipated follow-up to 2017's Illuminate boasts a 14-song track list featuring names like Khalid and Julia Michaels, of "Issues" fame.
During his first performance of two on Sunday, he was surrounded by a bed of brightly-lit roses during his performance of "In My Blood." The roses appear to be a reference to his album artwork — which features a floral arrangement around his face. Mendes tweeted that he'll be performing twice at tonight's awards ceremony — and his second performance is likely going to resonate with the audience.
Mendes is expected to be supported not just by Khalid, but also by Parkland survivors from the Marjory Stoneman Douglas High School Show Choir on a performance of "Youth." In the wake of a school shooting that took place in Santa Fe, Texas on Friday, May 18, the performance will undoubtedly strike a chord with the already politically-charged broadcast. The song is a celebration of youth activism and political engagement — a message very of the time.
If his Billboard performance and the singles he's released so far are any indication, Mendes' next album is going to be much more personal than political, though. In a 2017 interview with Clash, Mendes said that he'd never been in love — that most of his songwriting was informed by other people's experiences. His personal life has often been scrutinized, with intense speculation about his sexuality and who he is dating. Making his current album, though, he told Beats1 host Zane Lowe that he felt like he'd grown up in terms of his style and vulnerability.
"The only way things are going to get better is if it's more honest, you know what I mean?" he told Lowe in an April interview. "'Cause on the last album I was like teetering on the line of writing about me but making it so vague that no one would know who it's about." He also opened up to Lowe about his struggle with anxiety, and newfound fame, saying that mental illness caught him by surprise because he was always a "calm kid." It's totally a side of Mendes that we haven't seen before, and I am here for it.
"In My Blood," the lead single from his upcoming album, totally has a heavier rock sound to it, but it contrasts nicely with how emotionally raw the lyrics are.
"Laying on the bathroom floor, feeling nothing / I'm overwhelmed and insecure, give me something," Mendes sings. "I could take to ease my mind slowly / Just have a drink and you'll feel better / Just take her home and you'll feel better / Keep telling me that it gets better / Does it ever?"
Mendes isn't just known for his anthemic hits — his first two albums debuted at the top of Billboard's top 200 list — but he's also known for his incredible sense of style (and good looks). Hair paste, more than 35 guitars, a Louis Vuitton wallet are among items Mendes told GQ.com last month that he doesn't leave his house without.
It definitely seems like this new album is going to be Mendes' best-yet. His collaboration with Khalid and his new, authentic style are a welcome respite from the same-old pop music. Good for you, Shawnie.