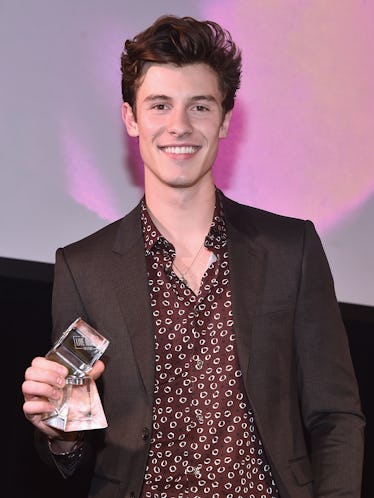 Shawn Mendes Got So Real About The Speculation Surrounding His Sexuality
Alberto E. Rodriguez/Getty Images Entertainment/Getty Images
Shawn Mendes is on fire right now. With so many hits to his credit and a million dollar smile, he's literally at the top of his game. So, it might come as a surprise to many people that Mendes grapples with anxiety. And that anxiety stems from how he's perceived by fans and the media. One thing that doesn't exactly help is all the intense speculation about his sexuality. In a recent interview with Rolling Stone magazine, Mendes revealed that such speculation has caused a lot of anxiety. Shawn Mendes' comments about speculation surrounding his sexuality prove that words matter and they can affect a person deeply whether they're true or not.
During the interview, Mendes revealed that he feels a lot of pressure to be seen with a woman to disprove all the rumors that he's gay.
"In the back of my heart, I feel like I need to go be seen with someone—like a girl—in public, to prove to people that I'm not gay," the 20-year-old singer said. "Even though in my heart I know that it's not a bad thing. There's still a piece of me that thinks that. And I hate that side of me."
The very fact that Mendes feels like he needs to show the world that he isn't gay just shows how powerful words and rumors can be. It's unfortunate that he feels that way and if his comments in the Rolling Stone article are any indication, then Mendes has been feeling like this for quite a while.
At one point, Mendes also talked about an experience he had around Christmas 2017 that infuriated him. According to the Rolling Stone article, Mendes had been reading YouTube comments about himself and when faced with speculation about his sexuality, he decided enough was enough.
"I thought, 'You f*cking guys are so lucky I'm not actually gay and terrified of coming out,' " Mendes recalled. "That's something that kills people. That's how sensitive it is. Do you like the songs? Do you like me? Who cares if I'm gay?"
An incident with his famous friend, Taylor Swift, resulted in an unexpected sleepless night, too. Mendes recounted to Rolling Stone how Swift once texted him a short clip from the night they were hanging out backstage at her Reputation tour that showed her putting her glittery eye makeup on Mendes' face. She wanted to know if he was alright with her posting it on social media. He told her it was fine without thinking, but woke up in a cold sweat that night dreading the wave of speculation it would surely set off. "I felt sick," he said. "I was like, 'F*ck, why did I let her post that?' I just fed the fire that I'm terrified of."
And if that weren't enough, Mendes told Rolling Stone that the speculation surrounding his sexuality has caused him to have panic attacks even in the most innocent of situations. Such was the case when he sat down to watch Love, Simon, a film about a teenager being outed by classmates at school. According to Rolling Stone, Mendes had "a panic attack in the theater and had to leave early."
This was right around the time Mendes' song "In My Blood" came out and when he opened Twitter as a distraction from his panic attack, he learned how much his song resonated with people. And that provided some much-needed perspective to the young star.
"I broke down in my hotel room," Mendes said. "I started crying, and I was just like, 'This is why you talk about shit that actually is real.' I was like, 'God, don't ever f*cking question the feeling of writing the truth again.' "
In the end, Mendes has learned to shake off people's misconceptions and live his life authentically. He shared with Rolling Stone that he'd put glitter on his eyelids as a kid to make his parents laugh, adding that he grew up with 15 female cousins. "Braiding hair and painting nails" was just a regular part of his life. "Maybe I am a little more feminine — but that's the way it is. That's why I am me," Mendes said.
Despite revealing all this to Rolling Stone, Mendes took issue with the article once it was published. He took to Twitter to share that he was somewhat disappointed with the tone of the feature:
So, clearly, there's another side to all this that Mendes feels wasn't represented by the interview. Just goes to show that not everything is always as it seems!