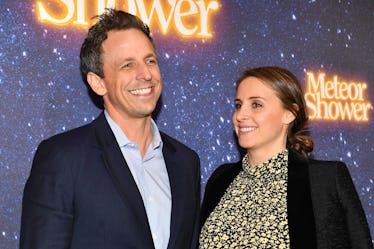 Seth Meyers' Wife Gave Birth In The Lobby Of Their Apartment & The Story Is Wild
Dia Dipasupil/Getty Images Entertainment/Getty Images
You have to love a talk show host with a good anecdote, and on Monday night, Seth Meyers unarguably won the award for best recent story of late night TV. The Late Night with Seth Meyers host and his wife Alexi Ashe welcomed their second child, Axel Strahl, on April 8, and Meyers appeared on his show the next day with quite a wild birth story. Seth Meyers' wife gave birth in the lobby of their apartment, and the story is just as insane as it sounds.
The couple's first son, Ashe Olsen, was born in 2016, and at the time of his birth, Meyers charmed audiences with the story of his wife nearly giving birth in their Uber en route to the hospital. Now that close call seems ridiculously tame compared to how Axel entered the world. When his wife Ashe began labor on Sunday, the couple planned their departure from home alongside Ashe's mother and a friend who is a doula. However, when they reached the lobby of their building, Ashe balked at the sight of the Uber waiting outside, insisting that the baby was coming immediately.
Before everyone knew it, their baby boy was partially out, but things didn't exactly look right. Sharing the details with his studio audience, Meyers joked:
The only way I could describe how my wife looked - she looked like someone who was hiding a baby in a pair of sweatpants. It was like somebody was trying to sneak a baby on a plane...so we walk back in and we had to decide, 'do we go into the lobby or back on the elevator?' Those are terrible options when what you're looking for is a hospital.
The day got even crazier at that point. Ashe laid down in the apartment lobby, and when Meyers and their midwife friend undressed her, the baby's head greeted them. So, yes, not exactly the same as a cutesy story about almost giving birth in a car.
By the time a quick call to 911 wrapped up, Axel was fully born, and by the sounds of it, Ashe is literally a real-life Wonder Woman and stayed calm even when firefighters and New York City police officers began to arrive. Meyers shared photos of firefighters surrounding the couple and Axel on the floor and Ashe receiving oxygen as he grinned beside her and their newborn son.
Hilariously, the family has officially left their mark on a building that they haven't lived in long, as Meyers revealed:
We have not lived in this building for a long time at all, we just moved in at the end of last year. I'm so glad that we are already co-op approved, because I don't know... I cannot tell you the kindness we experienced from [neighbors]. People were running up to get us blankets, they were putting towels in their dryers so we had warm towels to keep the baby... it was just this incredible outpouring of kindness from people we barely knew.
Meyers also thanked the emergency teams and doctors who aided them on the day, eventually sharing a photo of Axel and explaining his name to the audience:
We named him Axel just because it's a name we like, but I'm gonna tell him it's because firemen were there when he was born... his middle name is Strahl, which is my mother-in-law's...maiden name... I never met my wife's grandparents, but I've heard so much about them, and they were Holocaust survivors who met the day after they were liberated. They met in a hospital in Austria. On days like this... when someone is born, you just have such an appreciation for everyone in your lineage who lived so you could have this moment.
The host also shared an emotional thank you to his wife, saying that he knew his kids would be fine with her love in their lives. Well, if that story doesn't build your expectations of how your husband should react when you give birth, I don't know what will.
Congrats to the Meyers clan! Here's hoping they all avoid more medical emergencies in public places for the time being.