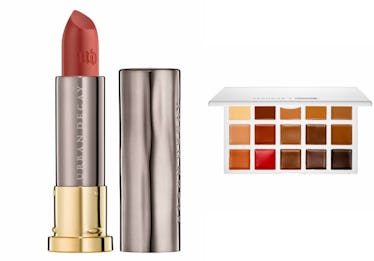 Sephora's Having A Major Sale & Urban Decay Is Under $9, So Someone Hold Me Back
Sephora
Another Thursday, another chance to get some major discounts from your favorite beauty retailer around. Sephora's Weekly Wow Sale is once again upon us and as per usual, it's chock-full of drool-worthy products. Every week, the company selects a new batch of items to mark up to 50 percent off (sometimes beyond!), meaning you can cop palettes, brushes, blushes, skincare products and more for staggeringly low prices 24 hours a day, seven days a week. Yes, the beauty gods answered your prayers with this one.
The best thing about this sale is how consistently diverse its offerings always are. You can, without a doubt, find one or two options for any product you might be looking for, meaning you never have to buy anything at full price again. If your face wash runs out, they'll have five options from stellar brands for you to replace it with. Traveling? The sale can absolutely hook you up with a slew of mini products to stock your carry-on with. And when it comes to makeup, the selection is even more plentiful. Anything your heart desires can be found, and by brands including Bobbi Brown, Urban Decay, and NARS, much less. So go ahead and splurge on a few new products to stock your beauty cabinet with this week. Or every week, really.
Here are a few of the best products within this round of the sale.
Birthday Suit
In this palette's case, basic is good. Filled with neutral shades, Urban Decay's cult-favorite Naked palette has everything you need to create an array of looks, from the beautifully subtle to the boldly dramatic. And at $10 off it's normal price, the time to grab it is definitely now.
Coal, Coal World
Yes, the first thing that drew me to this mask was absolutely its adorable packaging. But once I read about its benefits, I was doubly sold. The limited-edition mask is filled with minerals and activated black charcoal to detoxify, purify, and brighten your skin. Plus, it peels off, which is always satisfying AF.
Fresh Pow
Setting powder for $7? Say no more, I am sold.
Hide and Go Seek
This palette of 15 creamy concealer and corrector shades helps conquer everything from dark circles and redness to dullness and hyperpigmentation. Each palette (there are two!) is organized for three skin tones, meaning one of them will definitely work for you. I got four hours of sleep last night and it shows — I need this right now!
Fresh AF
$30 for seven fragrances? That's a small price to pay to be able to smell like a different fresh fragrance every day of the week. From Florence, "an alluring combination of Italian bergamot and crushed violet petals," to Stella, which is "infused with the slightly sweet, never bitter, and always fresh scent of blood orange," something will strike your fancy...er, nose.
The Tube
The best part about Urban Decay Vice lipstick being on sale is that you can get an array of shades with shine, matte, metallic, and satin finishes. So no matter what kind of pout you're going for, this has got you covered.
Getting Cheeky
This is blush-on-the-go at its finest. Complete with a soft puff applicator that makes blending a breeze, this creamy blush is infused with cotton and fruit extracts to help cheeks look hydrated and happy.
Twinkle, Twinkle
This four-shade glitter palette can be used on your eyes, cheeks, and lips, meaning it's technically a 12-in-one. It'll add a glossy shimmer wherever you apply it, making it the ultimate universal highlighter.
Face It
This revitalizing skin kit includes three products: A two-in-one Exfoliating Cleanser, Pep-Start HydroBlur Moisturizer, and Pep-Start Eye Cream. It'll have your skin bright and dewy in no time and seems like the perfect complexion refresh after a late night out.