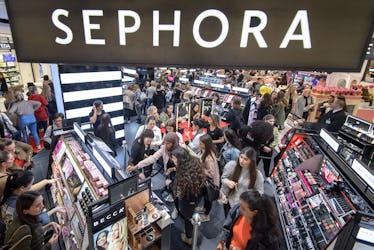 Sephora's Labor Day Sale Is On Now & There Are LEVELS To This Thing, So Listen Up
Thomas Lohnes/Getty Images Entertainment/Getty Images
There are so many things to love about Labor Day weekend. For one, it's a full three days off from work in a row, which means back-to-back pool parties, BBQs, and beach days. Plus, the weather is always perfect, and since summer is coming to an end, it's one of the last times to soak up the sun. Oh! And then there's Sephora's Labor Day sale — but if we're being real, that's really the best part of the weekend, amirite?
Well, technically, the sale isn't a celebration of one of the best weekends of the year — it's actually their Beauty Insider Appreciation sale. However, it runs from from Aug. 24 through Sept. 3, which means it's conveniently scheduled to coincide with the long weekend anyway. Whatever, tomato, tomato, right? No matter what you choose to call it, the sale is sure to bring you huge money-saving opportunities nonetheless. But there's one major catch—the only way you can actually rake in additional discounts, is to be enrolled in the Beauty Insider Loyalty Program.
And that's not all: The sale is not a one-size-fits all sale. Not all members get the same amount of savings, nor do they have the same amount of time to shop their faves. Here are the different levels of discounts:
Rouge members are the top tier of the loyalty program for spending at least $1000 within the calendar year, so naturally, they get the most perks. If you're a member, you will receive 20 percent off, which is more than everyone else, not excluding items that are already on sale. After you've filled your carts, use code YESROUGE at checkout for your discount.
VIB members get a slightly lower discount. With the code YESVIB, VIB members will get 15 percent off their favorite items. And finally, Sephora Insiders will receive 10 percent off with the code YESINSIDER. And just FYI: You can use your discount only once online, and as many times as you would like in-store.
If you don't have a magic pass, don't freak out! You can actually still sign up to become a beauty insider before Sept. 3. Do that and you'll get 10 percent off your go-to beauty staples.
In case you're not a member and you don't sign up to be one, you can still enjoy some major markdowns. Scroll to see some of the best beauty buys to shop during Sephora's Beauty Insider Appreciation sale.
Becca Shimmering Skin Perfector Pressed Highlighter in Dreamsicle
Was: $38, Now: $23 (additional discount with promo code)
Too Faced White Peach Eye Shadow Palette
Was: $45; Now: $23 (additional discount with promo code)
Kat Von D MetalMatte Mini Eyeshadow Palette
Was: $39, Now: $24 (additional discount with promo code)
Urban Decay Distortion Eyeshadow Palette
Was: $48; Now: $24 (additional discount with promo code)
Sephora Favorites Give Me Some Nude Lip
Was: $28; Now: $14 (additional discount with promo code)
Bite Beauty Champagne Discovery Lip Set
Was: $35; Now: $29 (additional discount with promo code)
With sales like this, I'm really not sure what you're still doing here. Get out there are load up on all your favorite products at a major discount.