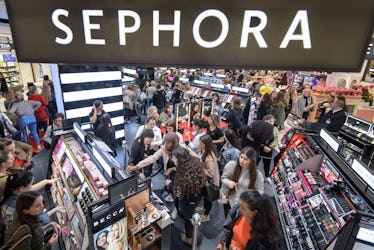 Sephora's Massive Annual Sale Is This Weekend & Here's How To Shop It
Thomas Lohnes/Getty Images Entertainment/Getty Images
I don't know what it is about the word sale, but when I hear it, I nearly squeal. One week I could be staring at an item in my shopping cart, and then when I get a sale email, all bets are off. The Sephora sale 2017 is kind of my kryptonite, and I hope you're getting pumped up because it's happening right now.
If you aren't a member of Sephora's rewards program, here is a breakdown on how things work. Being a Beauty Insider is free(!) and there are perks, so it's basically a no-brainer and you better get on it. Swag includes a free birthday gift (shoutout to my Scorpios), rewards bazaar, access to the Beauty Insider community, and cost-free makeup master classes. Also, if you find yourself needing your beauty staples stat, you can pay $10/year for free two day shipping. Consider that a total bargain, because how many times have you been in a time crunch? I know I'm not the only one that marks an event in my iCal, and then forgets about it until a few days before.
This year from Nov. 10-15, Sephora is giving Beauty Insiders 15 percent off with the code "INSIDER15." If you spend more cash at Sephora, you may belong to the next class up (called Beauty Insider Rouge), and you can take 20 percent off in stores and online with the code "20FORROUGE." And if you're singlehandedly responsible for the Fenty foundation shortage, you're probably a VIB member, which means your code to use is "20FORVIB" for 20 percent off. The most amazing part of the sale is that you can use the code as often as you wish throughout the weekend. Can you say #majorkeyalert?
So now that all of the technicalities are out of the way, you're either already Xing out of this article and driving to Sephora, or wondering what to buy. For those of you still with me, here are some of the latest and greatest products to score during this weekend's sale.
Crystal Infused Collection
We love a good bundle, and the ColourPop Amber Crystal Collection features a highlighter, setting spray, and lip balm that boast actual crushed amber crystals. We promise this is not another case of fake news.
Eye Shadow Palette That Will Make Your Heart Go Zoom, Zoom, Zoom
I personally have had my eye on this Huda Beauty shadow palette, from blogger extraordinaire Huda Kattan. Not only are the colors absolutely beautiful, but do you also spot that shimmer?! Zenon has always been a personal icon of mine and I feel like she would have totally rocked Twilight or Blood Moon.
Luxe Lipstick Set That You Can Actually Afford
How often do you get to treat yourself to five fancy AF Dior lipsticks for $50? At a breakdown of $10 a lipstick plus that discount, tell me where you are going to get a better deal this weekend. I dare you.
Perfume For Indecisive People
I've always wanted to be a women that has a signature scent; it's always seemed, as we say in the South, so "sugar honey iced tea" to me. Now that I'm a fledging adult woman, I like to think it's the perfect time for me to find my signature scent, because I'm a bit old to smell the same as I did freshman year. With 17 deluxe samples of trendy fragrances that run the gamut from sexy to sophisticated, plus a coupon for a full-size version of your favorite, this kit makes it beyond simple.
The Perfect Towel For Unruly Hair
After all of the hot oil treatments, why would I want to roughly pull an ordinary towel through my delicate, but super thick and unruly hair? This towel won't disrupt your hair or aggravate frizz, and it also cuts down on drying time, which is nice because I'm usually ten minutes late already.
Oil That Will Have Your Hair Shinin', Shinin', Shinin
Oil is your friend, and I know that sounds scary, but a little bit of Moroccanoil goes a long way. Not only will it protect your hair during the dry winter months, but it will provide just the right amounts of shine and hydration.
Sulfate-free Shampoo That Gently Purifies Hair
I love washing my hair with apple cider vinegar (ACV). The natural wonder does a fantastic job at clarifying without stripping, leaving behind soft, clean strands. This shampoo has ACV, plus castor oil, which is so major for hair growth!
The Sheet Mask With Egg Nog...I Mean Cream
The skincare/makeup brand Too Cool For School is totally not too cool for you. I love the simplicity of a good sheet mask, and this egg cream variety packs egg white and yolk extracts that yield bright, supple skin.
My Personal Acne Heroine
I had the worst acne in middle school, high school, and the beginning of college. I swear the only thing that started the process of clearing up my skin after years of harsh treatments was Origins. As someone who has a super oily T-zone, and dry patches in other areas, I can attest this lineup of best-selling Origins products will reduce your pimples and your pain points.
Winter Is Coming Hand Cream
This hand cream is not joking around, and you need serious moisture on your hands during the winter months. It heals dry spots while preventing new ones from forming, even in dry air. You can say goodbye to lost moisture, and have no shame holding hands with anyone you please.