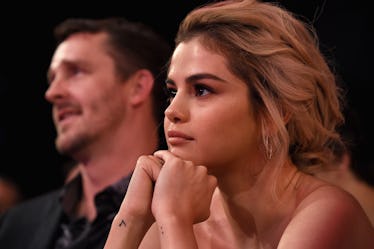 Selena Gomez Says 2018 Is All About One Thing For Her & It's So Inspiring
Michael Kovac/Getty Images Entertainment/Getty Images
Selena Gomez might be a literal rockstar when it comes to music, but she's also become one of Hollywood's most outspoken advocates for mental health awareness. In a recent interview with Harper's Bazaar, Selena Gomez's quotes about her health showed where her priorities are for 2018. If you've been keeping up with the "Fetish" singer lately, there's no surprise here: She's continuing to work as a strong, honest representative for people everywhere who are struggling with things like self-esteem, mental health, and overall happiness and well-being.
As you may know, this isn't Gomez's first time speaking out about the importance of mental health awareness. As the most followed person on Instagram, the 25-year-old pop star has long been a figure in the spotlight, and she's known for being extremely transparent and honest about her own struggles with anxiety and depression, both as a performer and as a human being. In 2016, Gomez had to cancel part of her Revival tour in order to properly deal with the symptoms of her lupus diagnosis, which can include anxiety and depression. She's also been known to take social media breaks as a self-care strategy, and she was open about her kidney transplant back in 2017, as well as some of the emotional fall-out that resulted.
What's more, Gomez has even produced 13 Reasons Why, a Netflix series focusing entirely on suicide and mental health advocacy. And fun fact: Katherine Langford, the star of 13 Reasons Why, conducted this Harper's Bazaar interview with Gomez, and the two chatted about fashion, social media, and of course, prioritizing health and wellness in 2018.
Gomez has never been a stranger to speaking out for a cause, and she's not planning to stop any time soon.
This year, Gomez's number one resolution is to choose herself over anything else. She told Harper's Bazaar,
...anyone who knows me knows I will always start with my health and my well-being. I've had a lot of issues with depression and anxiety, and I've been very vocal about it, but it's not something I feel I'll ever overcome.
She added,
There won't be a day when I'm like, "Here I am in a pretty dress—I won!" I think it's a battle I'm gonna have to face for the rest of my life, and I'm okay with that because I know that I'm choosing myself over anything else. I'm starting my year off with that thought. I want to make sure I'm healthy. If that's good, everything else will fall into place.
Gomez's constant honesty with her fans is no doubt one of the many reasons why she's amassed such a huge following on Instagram.
But with that honesty comes a few setbacks. In her Harper's Bazaar interview, Gomez opened up about what she calls her "complex relationship with Instagram."
The only thing that worries me is how much value people our age place on social media. It's an incredible platform, but in a lot of ways it's given young people, myself included, a false representation of what's important.
For anyone out there who has a similarly complicated relationship with social media at times, taking a cue from Gomez might be the best option: turn it off for a week or two, or even a couple months, if you feel like that what's you need.
Gomez has revealed in recent years that she doesn't have the account info for her Instagram; her assistant runs the account and posts for her, so that she can't obsess over the app on her own time. Talk about a great idea, right?
If you're having your own struggles with social media, taking a break from it altogether is always an option.
Deleting Instagram from your phone is a really easy way to keep your account active while still preventing yourself from scrolling through your feed mindlessly several times a day. What's more, it's important to keep what Gomez said in mind: So much of social media can be a false, curated portrayal of someone's life, and it's super important to keep a healthy perspective on it all.
There was some good news in that Bazaar interview, too: Gomez is working hard on her next album, although no promises on a release date. Cue the speculation firestorm!