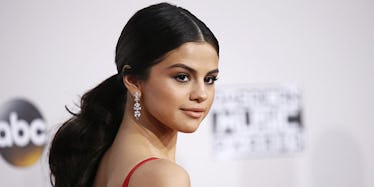 Selena Gomez Returns To Social Media With Emotional Instagram Post
REUTERS
Selena Gomez is back on Instagram, and she's made her return with an emotional message, to boot.
After a hiatus of over three months on the photo-sharing app, the pop star told her 100 million-plus IG followers,
My year has been the hardest yet most rewarding one yet. I've finally fought the fight of not 'being enough'. I have only wanted to reflect the love you guys have given me for years and show how important it is to take care of YOU.
Gomez's return to social media is, of course, about more than just posting pictures.
Back in the August, the 24-year-old was transparent in revealing that she was taking time off to focus on herself.
She made this announcement despite being in the midst of her Revival Tour, which she had to abruptly cancel in order to take her hiatus.
In a statement to People, Gomez said at the time,
As many of you know, around a year ago I revealed that I have lupus, an illness that can affect people in different ways. I've discovered that anxiety, panic attacks and depression can be side effects of lupus, which can present their own challenges.
That hiatus came to an end last weekend, when Gomez resurfaced in the spotlight at the American Music Awards, where she not only accepted an award, but also exhibited her willingness to share her inner struggles with her audience.
While on stage at the Microsoft Theatre in Los Angeles, Gomez delivered an emotional speech that provided more detail as to why she went away, saying in part,
I had to stop. Because I had everything, and I was absolutely broken inside. And I kept it all together enough to where I would never let you down, but I kept it too much together to where I let myself down.
"If you are broken you do not have to stay broken." Selena Gomez's powerful speech at the American Music Awards https://t.co/SlMOYpOTTd pic.twitter.com/CLDBdEuVR1 — CNN (@CNN) November 26, 2016
Now that she's back making public appearances and sharing her life through Instagram again, her fans surely hope it's a sign that things are looking up for the young star.