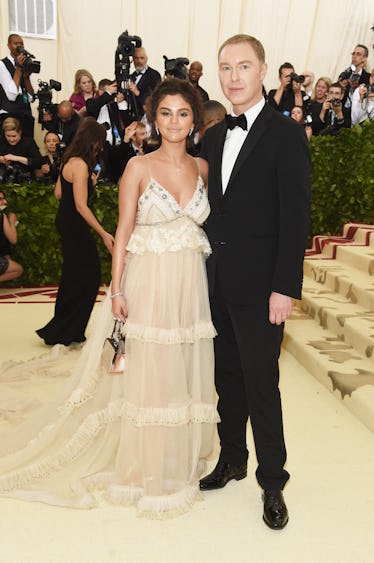 Selena Gomez Looks Like A Golden Goddess At The Met Gala & Twitter Is Torn
Jamie McCarthy/Getty Images Entertainment/Getty Images
At the Met Gala, celebs step out in some of the sparkliest, most arresting, most creative outfits for the biggest fashion event of the year. And while Selena Gomez's 2018 Met Gala look is one such outfit (just add in a heap of ruffles and that description fits her dress to a T), her beauty look has the internet divided. More specifically, Twitter seems to take issue with the color of Gomez's skin.
Before she even took to the red carpet of the annual fashion extravaganza, Gomez teased her glam via Coach's Instagram stories. She appeared on screen with the glittery gold lids of my dreams (think a solid lacquered shimmer) and a mass of curls piled up atop of her head. She looked glamorous, fresh, and daring, and I had her pinned as one of the best dressed of the night, despite not having even seen her outfit yet. Having now seen her on the red carpet I still find her dress to be completely dreamy but can also understand where the shade in regard to her makeup look is coming from. More on that in a minute...
Seeing as Gomez is a Coach ambassador and collaborator (she'll be releasing a line of ready-to-wear with them this fall), it makes sense she'd be wearing a dress by the brand's Creative Director, Stuart Vevers. She wore a dress by him to last year's Met Gala as well and absolutely slayed the carpet. Simple but certainly not boring, it was a silky white slip dress with a dramatically long train. Small glittering embellishments of stars and sequins dotted the dress and a thigh high slit allowed for a dramatic silhouette for photos. Her beauty look, too, was on point. She rocked a choppy chin length bob that was made ultra sleek, and her eyes were swept with an electric pink shade. Gomez proved that statement-making didn't necessarily have to equate to over-the-top drama — but then again, she'd been proving that for years.
In 2016, she arrived in a look that divided the fashion world. Half of the people I spoke to hated it and half loved it. I happened to love it for its edginess, its unexpectedness, and, yes, its simplicity. It featured a black and white polka dot dress, over which Gomez wore a leather bralette-slash-harness. On her feet were patent heeled booties with visible treads — the whole thing was totally badass yet totally wearable. I was all about it.
This year, the internet is once again divided over her look, but for a very different reason.
She arrived to the Met in a sheer white gown featuring spaghetti straps, an embellished top, and empire waist. As described by a statement from Coach, "Ms. Gomez's opera length slip gown was made from vintage cream silk gauze. Accented by handsewn lace incrustations and detailed with hand pleated frills with metal studs, the gown features crystal embellishments reminiscent of motifs found in the Coach Fall 2018 runway collection. Ms. Gomez's gown was accentuated by Coach gunmetal heels and a cream Kisslock Frame bag. The archival-inspired handbag design featured gunmetal detailing, crystal embellishments and a Tea Rose turnlock. The look was finished with a personal touch from Ms. Gomez, a quote in her handwriting is embossed on the side of the bag as well as on a ribbon on her gown."
She looked liked something from a fantastical land far, far away, and gave me total goddess vibes. Many people agreed and took to Twitter to express their love for the look:
While the dress itself — a gorgeous, gauzy, ruffled delight — has been getting only a bit of critique online, it's Gomez's makeup look that really has the internet in a tizzy. No, people aren't trolling her glitter lids or hating on her matte pout. It's her bronzer (or perhaps spray tan) that has people Tweeting a storm.
In some photos, I will agree that it might look a bit extreme. But in others, she looks like a gorgeous bronzed angel. (Which, she is.)