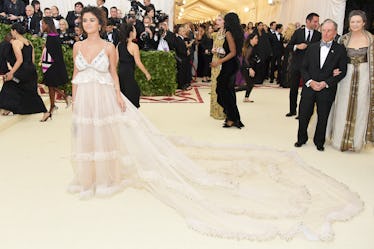 Selena Gomez's Met Gala Dress Had A Tiny Detail You Probably Didn't Notice
Neilson Barnard/Getty Images Entertainment/Getty Images
Selena Gomez has always had killer style. And she's serving up a pretty awesome look at this year's Met Gala. But there's one little detail you probably didn't notice about Selena Gomez's 2018 Met Gala dress: it's embroidered with her favorite Bible quote!
The 25-year-old singer strolled down the red carpet wearing a Coach dress that was essentially a lacy slip. On the surface, the dress looked really angelic and simple. But those with a bit of insider knowledge disclosed that Gomez's dress had a small and very personal detail.
According to Elle, Gomez's dress was embroidered with her favorite Bible quote, which makes so much sense since the night's theme was "Fashion and the Catholic Imagination." No word yet on what the quote was, but what a nice little signature to add to the dress! Gomez also wore a diamond studded cross, which fit the theme perfectly as well.
Back in February 2018, Gomez posted on a photo from her Bible readings on Instagram. The caption read, "Its not about what you have, its what you can give. Whatever it is."
Gomez was referring to a specific passage in the Bible, which was from Geneisis:
I will make you a great nation; / I will bless you/ And make your name great; / And you shall be a blessing.
In her notes, Gomez interpreted this passage to mean she would be blessed "with great gifts." So, clearly, religion and Christianity feature heavily in Gomez's personal life.
So it seems fitting that the Met Gala would follow this theme as well! And she seems like she really enjoyed combining fashion and Christianity for the evening, so that's pretty awesome, too.
It's even possible that it was something from the passage she quoted on Instagram that Gomez had embroidered in her dress. There's no telling, though, as the details of the dress are pretty scarce. But it's a nice thought either way!
The Met Gala has been a special event for Gomez for the last few years. Last year, Gomez made fans swoon by showcasing her affection for then boyfriend The Weeknd. The two reportedly started dating in January 2017 and made their first public appearance together at the Met Gala that year. Up until then, they'd been getting some decent rounds in the press with appearances at Coachella and other events. But they chose to reveal their romance on the Gala's red carpet, which seemed really appropriate given the atmosphere of the night!
Unfortunately, that relationship was short lived (only 10 months!) and now Gomez is on to bigger and brighter things.
Already this year, Gomez has made appearances at the WE Day charity event, taken some time out of her schedule to attend March For Our Lives, and faced some relationship woes with long time on-again-off-again love Justin Bieber. Needless to say, she's been quite busy. She also managed to go to Coachella, where some strange ex-boyfriend drama ensued. Apparently, The Weeknd took to the stage to perform "Call Out My Name", which was reportedly inspired by his relationship with Gomez. He cried while singing and most people think it's because he still cares for her in some capacity. Tough break, huh?
To add to all that, Gomez just released a brand new song called "Back To You" on May 10. So, she's clearly gearing up for some new stuff this year, which is exciting!
As for fashion, Gomez's style is always evolving and she's changing it up all the time, which is interesting because she still considers herself a fashion "newbie." In an interview with Vogue at the 2017 Met Gala, she spoke about coming into her own fashion-wise:
Well, she's obviously doing what makes her happy and this year is no different. Can't wait to see what she does next year!