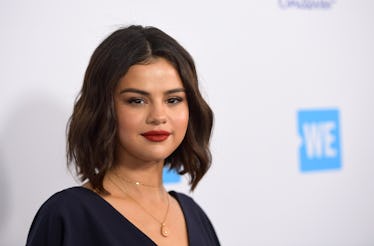 Selena Gomez Looks Happier Than Ever In These New Photos From WE Day
Matt Winkelmeyer/Getty Images Entertainment/Getty Images
Selena Gomez is all about making a positive impact on the world around her. That's why she's been dedicated to the WE Movement for the past few years and is showing no signs of slowing down. On Thursday, April 19, photos of Selena Gomez at WE Day surfaced on social media and she seems to be having the time of her life.
Gomez has a long history with the WE Movement, a charity movement that works to help communities create solutions for some of the world's biggest problems. The movement works with schools, neighborhoods, companies, and celebrities like Gomez to make a difference in the world.
And Gomez, being the game-changer she is, started getting involved with the movement six years ago. In that time, the cause has been one she's held close to her heart. In talking to E! News in April 2017, Gomez explained why she feels so connected to it:
The reason why I fell in love with working with WE Day is it's just a family here. It's what they do for kids.
The singer took to her Instagram to express her gratitude for the movement and for the opportunity to part of it:
In the photo's caption, Gomez introduces her followers to a youngster named Nellie who is keen on spreading awareness about kidney disease:
@wemovement -my sixth year doing this incredible show. They have such a force of young people that are doing so much for their communities and the world. This is Nellie. She's fearless and is wanting to spread awareness about kidney diseases.
Kidney disease is another issue very close to Gomez's heart. The 25-year-old singer underwent a kidney transplant in 2017 and has been incredibly brave and outspoken about it ever since.
In an Instagram message to her fans, which she posted in September 2017, Gomez explained her health issues and encouraged people to learn more about it:
So I found out I needed to get a kidney transplant due to my Lupus and was recovering. It was what I needed to do for my overall health. I honestly look forward to sharing with you, soon my journey through these past several months as I have always wanted to do with you … Lupus continues to be very misunderstood but progress is being made. For more information regarding Lupus please go to the Lupus Research Alliance website: www.lupusresearch.org/
She also posted a sweet photo of her and best friend Francia Raisa, who donated a kidney to Gomez:
So, obviously, kidney disease is just one of the many issues Gomez is trying to bring into the fore. And she's doing a great job of it, too.
For WE Day, though, Gomez is showing up for and speaking out for issues like poverty, bullying, access to clean water, and so much more.
She also posted this photo with a group of young artists during the festivities:
In 2017, Gomez told E! News that she loves WE Day because it encourages young people to get involved with their community:
It's not just they want to help a specific community or want to go to a certain place in the world. They are encouraging kids from even in your backyard to be doing something for your community, for your neighborhood, for your family, for your friends.
Gomez's involvement with the movement and her drive to help young people get involved is heartwarming. It's just one of the many reasons fans love her, though — she's talented, beautiful, smart, and seems to have a heart of gold. I can totally understand why young people look to Gomez as a role model. She's one of the good ones!