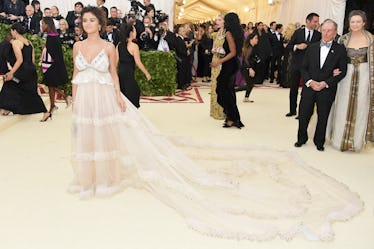 Selena Gomez Gave A Major Clue That She Wasn't Happy With Her Met Gala Look
Neilson Barnard/Getty Images Entertainment/Getty Images
Everyone knows that Selena Gomez is a goddess. Well, maybe not an actual goddess, but she looked like one at the 2018 Met Gala. Although Selena Gomez's Met Gala look really wowed people with its elegance and simplicity, Gomez herself reportedly wasn't particularly happy with how she appeared in photos. And one of her recent Instagram posts proves that.
In a new Instagram post, Gomez shared a hastily shot video of herself running away from the camera in her Met Gala dress. She was still in full hair and makeup and seemingly heading home for the night. Gomez's dress was a custom-made Coach number that resembled a lace slip.
When she walked the red carpet, E! News reported that her dress was embroidered with her favorite Bible quote, which was perfect for the "Fashion and the Catholic Imagination" theme of the night. The quote? "A woman who fears the lord is a woman who shall be praised." The quote was embroidered onto both her handbag and her dress in her own handwriting.
Clearly, Gomez's 2018 Met Gala look was very personal and rooted in her religious beliefs. So, it's kind of sad that she wasn't 100 percent happy with how the photos from the evening turned out, even if the rest of the world thought she looked beautiful.
As for the Instagram post, Gomez included a rather interesting caption. The caption on the post was vague at best, but indicated that the 25-year-old singer wasn't as happy as she thought she'd be with her Met Gala photos:
Me when I saw my pictures from MET
What ever could that caption mean?
Have a look at the video for yourself:
Gomez disabled the comments on the post, perhaps in an effort to stifle questions about the sentiment behind her words.
So, what about her look might have Gomez taken issue with? There are a few points to consider.
First, her hair and makeup. While there's literally nothing wrong with how she was done up for the evening, it's possible that Gomez was unhappy with her wavy updo or even her glittery eye shadow and bronze glow.
Gomez's makeup was done by Hung Vanngo, who used Kiehl's and Marc Jacobs products to bring her look together. Marissa Marino was responsible for creating Gomez's hairstyle for the evening. A winning team, for sure, but it's possible they missed the mark in Gomez's book.
Here's a look at Gomez's Met Gala makeup and hair:
And then there's the dress itself, which was slightly sheer and revealed a little bit beneath the surface, at least in photos.
Here's how the dress looked at the Gala:
It's only a tiny bit sheer and honestly looks so amazing. So, maybe Gomez's disappointment with her look has to do with something else entirely.
Fans who were watching the red carpet also noticed that Gomez seemed a bit more tanned than usual. Maybe she wasn't fond of how her tan photographed. Could that be a possibility? If fan reactions are any indication, then it's definitely possible.
Here's what fans were saying about her tan:
Oof, harsh! Twitter doesn't hold back at all. But I guess that's the nature of the platform, right? But hopefully, she's not terribly put off by the backlash from trolls. She still looked pretty great regardless of what anyone says.
Whatever Gomez happens to be upset about, there's no question that the singer always kills it with her style. And she most definitely did that at the Met Gala, so Twitter trolls, please get outta here now.