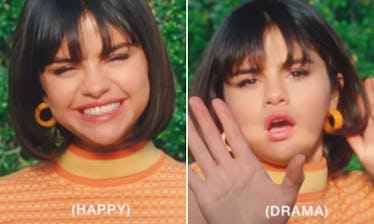 People Are Saying Selena Gomez Ripped Off A Major Artist With Her "Back To You" Video
YouTube
Being accused of stealing another creator's work is never fun. And unfortunately for Selena Gomez, that's exactly what she's experiencing right now. Ahead of releasing her music video for "Back to You," fans took to Twitter to express their disappointment in Gomez for seemingly stealing the style of someone else. Now that Selena Gomez is being accused of ripping off another artist, it seems like a good time to have a serious discussion about giving credit where credit is due. At least, that's what fans are hoping to get out of this whole debacle.
UPDATE: In a statement to Elite Daily about this controversy, Sarah Bahbah said,
For years I have been very vocal about the inspiration behind adding subtitles on series. See an example stated in a 2015 interview with Nylon Magazine... I don't claim to own the use of subtitles on images either, but it's definitely a signature of my work that has further established me in this industry.
My recognizable style of work has allowed me to collaborate with music labels, media publications, fashion brands (such as Gucci), and celebrities. All of which were interested in working with me because of my photography style, use of subtitles & raw story telling. It's become somewhat of an industry standard that I am the "go-to" for this type of style.
My focus right now is bringing light to a very important issue to me– the taboos that need to be broken around child sexual abuse. See my most recent series (I Could Not Protect Her) as well as my interview with Teen Vogue that dives into the issue. Unfortunately recent events have overshadowed this message.
I'm flattered that so many have referenced me in Selena's latest work, and would love to collaborate with Gomez on a special project in the future.
EARLIER: The artist in question is a woman named Sarah Bahbah, who has made a name for herself snapping highly stylized photos and overlaying captions on them. As Gomez teased her video for "Back to You" with similarly styled images, people on social media began to take notice of how closely they aligned with Bahbah's work. And that's when the trouble started.
As people do when they're upset or enraged about something, fans started calling Gomez out on social media. Her Instagram posts are flooded with all kinds of comments.
"It's really disgusting that someone with as much influence as you would blatantly steal ideas from someone who is an original brilliant artist. @sarahbahbah," a user wrote on one of Gomez's Instagram post.
Another person said, "You can't come up with your own ideas?? stealing from artists, you make me sick."
And yet another Instagram user said Gomez's video lacked imagination. "This has @sarahbahbah vibes.... no one is innovative any more, just recycled ideas 💡"
People are obviously very upset about how closely Gomez's video resembles the work of another artist. For those of you who don't know, Bahbah is revered for her unique ability to capture the human experience in photographs and words. Her work has been displayed in galleries all over the country and she's amassed a huge following on social media.
As expected, Bahbah's fans made her aware of the growing controversy surrounding Gomez's video, which she acknowledged in her Instagram story:
In the post, Bahbah wrote that "well over 2,000" people had already sent her photos that Gomez had posted to her own social media accounts. Elite Daily reached out to Bahbah for comment on the situation, but did not hear back by the time of publication.
It's not clear whether Bahbah has any specific opinion about Gomez's video, but at the very least, she's aware of what's going on.
Here's a look at the "Back to You" video:
To be fair to Gomez, it's unlikely she had much to do with the artistic direction of the video beyond approving it and it's unclear whether she knew of Bahbah's work or not. Plus, the video (and the teaser photos she posted on Instagram) are really just images with captions, which is a style that could be adopted by anyone. I would even venture so far to say that they're a call back to the silent film era, which was basically moving images with captions. Literally, anyone could do this.
Captions aside, though, people seem to have a specific issue with the way in which the images are composed and ultimately filtered. Bahbah's work frequently shows people in conflict, which is what "Back to You" is all about. So, in that regard, the naysayers do have a point.
I guess we'll see how it all turns out over the coming days. Hopefully, everyone involved can be civil!
Gomez's video for "Back to You" was officially released on Tuesday, June 5, after weeks of teasing fans with stills from the shoot as well as a lyric video. Gomez recorded the song for the second season of the Netflix hit show 13 Reasons Why. As a producer on the show, Gomez is heavily involved with its production.