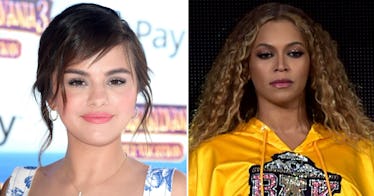 Fans Think Selena Gomez Just Broke Beyoncé's Instagram Record With This Flawless Post
Kevin Winter/Getty Images Entertainment/Getty Images ; Kevin Winter/Getty Images
Did you know there was a record on Instagram for being the fastest user to get a million likes on a post? Yeah, me neither. But, according to Twitter, there is, and, apparently, that honor was once held by Beyoncé. Because of course it was. And I said "was once held," because now, it seems, that title was just stolen by another gorgeous and talented pop star. Selena Gomez just broke Beyoncé's Instagram record with a seriously flawless post in honor of her 26th birthday, you guys! And, like, take that, Justin Bieber!
OK, so here's what happened. On Monday, July 23, the "It Ain't Me" singer hit up Insta to post a slideshow of images from her Italian-themed yacht birthday party (her actual bday is July 22). The first photo she shared is a stunning close-up that shows her smiling big in a pink floral, off-the-shoulder dress. Gomez just looks so happy and fresh-faced and free in the shot, that I'm really not all that surprised she beat Beyonce's record.
According to the popular fan Twitter account Pop Crave, the photo racked up one million likes in 13 minutes, beating out the record Beyoncé previously held. Elite Daily reached out to Instagram for confirmation, but did not hear back by the time of publication.
Anyway, that's, like, 77,000 likes a minute, in case you didn't know. And yes, I just used the calculator on my iPhone to figure that out. Anyway, that's some major rockstar status right there, so we should probably all bow down and scream "Bellissimo!" or "bruschetta" some other equally sexy Italian word.
Other images in the slideshow include a few pics of SelGo hanging with her #girlsquad, and an artsy shot of the star surrounded by balloons, confetti, a whole bunch of amazing-looking desserts, and a three-tiered blue and white cake topped with a silver "S." Be sure to click through above and check it all out.
"Another year down," Gomez wrote in the caption. "Thank you for all the bday love. I couldn't be more appreciative of you and my best friends for celebrating with me. I love you guys like crazy! God bless!"
Backatcha, sis! And BTW, I totally want my own Italian-themed yacht birthday party now, don't you? So can someone get on the phone and call someone who knows someone and make that happen? Please?!
Meanwhile, as of now, Gomez' aspirational post stands at about 8.9 million likes, but that number is only gonna go up from there. Guess a lot of people are happy to see her so happy. I know I am.
So which one of Queen Bey's posts did she bump out of the top spot? According to Billboard, there were actually two of them. Bey's twin reveal photo of Sir and Rumi Carter, which she shared on July 14, 2017, got around 7.8 million likes in 12 hours. Then there was her now-iconic pregnancy reveal, which racked up 6.4 million likes in its first few hours.
Of course, turnabout is fair play. And it looks like Selena securing the new record may be a little payback for that time when Mrs. Carter's epic pregnancy reveal earned her bragging rights for snatching the most liked Instagram title from Gomez back in November 2017.
Your move again, Bey.