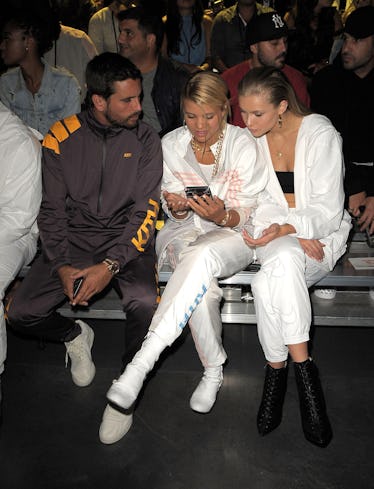 5 Scott Disick & Sofia Richie Couples Costume Ideas To Rock On Halloween
Chance Yeh/Getty Images Entertainment/Getty Images
Time is ticking on getting your Halloween costume together, but never fear, there's an easy couples costume that you can probably recreate pretty easily with stuff you have on hand. Check out these Scott Disick and Sofia Richie couples costumes for some inspo. But hurry... seriously, Halloween is coming up fast!
First, a bit about this newish couple, who only went public with their relationship in September (though they were rumored to have been a thing in the months before that). You likely know Disick from his Kardashian ties, as he's dad to three kids — Mason, Penelope, and Reign — with his ex Kourtney Kardashian. Disick continues to make headlines with Richie, who is 15 years younger than him.
On the costume front, though, these two really have kept things pretty casual, so you can recreate their looks easily. This late in the game, you kind of need to keep things as simple as possible if you're ever going to pull off a Halloween costume. Sorry, but you procrastinators get it. The great news is that there's still time to make a Disick and Richie costume a reality and I can almost guarantee it'll be one look that you won't see a lot of.
1. Beach Babes
Black Shorts, $10, Amazon
Black Shirt, $12, Amazon
Red Bikini Top, $17, Amazon
Black Pants, $20, Amazon
Disick and Richie hit up a beach in Miami in September and their look is so, so casual. For him, dark shorts and a black t-shirt (Gucci, if you've got it) and for her, a red bikini top and black pants. Done and done. Easy, right?
2. Vacation Casual
Swim Trunks, $10, Amazon
White T-shirt, $4, Amazon
White Crop Tank Top, $10, Amazon
Black Capri Pants, $20, Amazon
Sunglasses, $20, Amazon
Hey, it's another beachy vacay look that's also super easy to recreate. For Disick, a white t-shirt (what could be simpler?) and shorts. For Richie, a white tank and black capri pants. Sunglasses are the perfect accessory.
3. Fall Vibes
Women's Jeans, $21, Amazon
Black Shirt, $13, Amazon
Men's White Shirt, $8, Amazon
Men's Black Jeans, $19, Amazon
What could be more perfect than some fall basics for your Halloween costume? Lucky for you, Disick and Richie ditched the beach stuff and went for comfortable jeans and long sleeved shirts while out shopping. You'll need a pair of black ripped jeans and white shirt for Disick's look and a black top and jeans for Richie. Chances are, you've got everything in your closet already. Add a couple of gold chains for her, and white shoes and sunglasses for both.
4. Laid Back
Track Pants, $30, Amazon
Adidas Pullover, $55, Amazon
White Shirt, $16, Amazon
Jacket, $60, H&M
This might possibly be one of the most laidback costume ideas of all time, based on this snap of Disick and Richie back in June, when she sported a full-on Adidas track suit and Disick looked like such an All-American boy in jeans, T-shirt, and a Rolling Stones jacket.
5. Faux Fur
Sheerling Cardigan Jacket, $20, Amazon
Black Boots, $28, Amazon
Red Hoodie, $25, Amazon
Black Jacket, $13, Amazon
The faux fur coat Richie wore during their recent time in Venice will be the talk of any Halloween party, so if you can find something similar (in a pinch, the reasonably priced fleece cardigan listed above has a similar look), this might be the perfect costume accessory. Pair it with jeans and black heeled boots and it's total perfection. Disick is easy again, with jeans, red hoodie, and a black jacket. Sunglasses, as always with these two, complete the look.
Which is your favorite Disick and Richie look?
Check out the entire Gen Why series and other videos on Facebook and the Bustle app across Apple TV, Roku, and Amazon Fire TV.