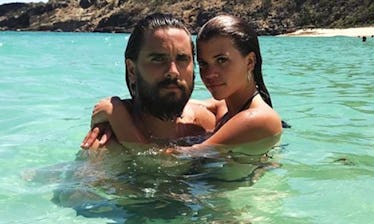 Scott Disick & Sofia Richie Reportedly Just Took A Huge Step In Their Relationship
Scott Disick and Sofia Richie are taking their relationship to the ~next level~. The couple's relationship has been through the wringer that is the rumor mill lately, with anonymous sources saying they broke up, saying Disick cheated, saying Lionel Richie threatened to leave Sofia out of his will if she didn't break up with Disick — it's been a lot. The couple said they never broke up in the first place, however, and now reports are saying that Scott Disick and Sofia Richie are reportedly living together. Elite Daily reached out to Disick and Richie's teams for comment on this report and the rumors surrounding the couple, but did not hear back by the time of publication.
A source told People of the couple's current relationship status: "Sofia again lives with him. Everything seems good now. It's back to normal." Let's not go into how weird the wording "Sofia again lives with him" sounds and just talk about what this reveals. If she's living with him "again," that has to mean she was living with him previously and then moved out, right? As someone who has to keep an eye on Kardashian news as part of their literal job, this is the first I've heard that these two were living together at all. It also means — if they are living together and they had already done so previously — that something must've happened between the two to make them stop living together for a time. Something like a bad fight or a breakup, maybe?
This is all super confusing though, seeing as multiple sources reported the two had broken up, then Disick and Richie posted to their Instagram Stories saying that never happened. So were they living together before the so-called "breakup?" Did Richie leave at one point? Guys, I literally do not know, but I guess they're living together now, no matter what went down before.
Us Weekly reported on June 2 that Disick was reportedly seen at the Ye listening party with his arms around a woman who wasn't Richie, and that led to Richie dumping him. Another source told E! News at the time that Richie was fed up with his "toxic" behavior. They said,
Sofia broke up with Scott after the pictures and rumors of his behavior in Wyoming were floating around. She couldn't take it anymore. Scott has been off the rails recently and is not in a good place. He goes in waves of partying really hard and then will have his good days and it's just very toxic behavior. It's very up and down … Her dad got to her and was a major influence. He told her enough is enough and she deserves better than this. He told her to come home and she did.
Elite Daily previously reached out to Disick and Richie's teams for comment on the rumors, but did not hear back by the time of publication.
Another source told People that Richie was "really disappointed in the Wyoming photos and wouldn't talk to Scott for a couple days," but they said that Richie and Disick hashed it out … and he smoothed things over like everyone expected." Elite Daily previously reached out to Disick and Richie's teams for comment on the rumors, but did not hear back by the time of publication. This fight may have very well happened, but a breakup? Not so much.
Disick posted a screenshot of a TMZ story about their "breakup" to his Instagram story saying, "We had no idea we even broke up but thanks for thinking of us."
Sofia Richie posted her own response to the rumors to her Instagram story the same day. She said, "Never believe the internet."
Here's the only sense I can make out of all of this: Disick and Richie have possibly been living together for a bit, he got a little wild at the Ye listening party and Richie wasn't about it. It caused a fight that didn't result in a breakup, but they made up and are still living together. As always, we won't know more unless the couple decides to dish the dirty details, but something tells me we won't be getting any of that info anytime soon. Color me confused.