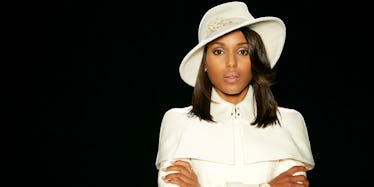 'Scandal' Season 7 Is Almost Over, Here Are The Top 7 Olivia Pope Reads That Gave Us Life
Since April 2012, millions around the globe have tuned into ABC's Scandal on Thursday nights to watch Olivia Pope and her team at Olivia Pope & Associates solve the biggest political crises in Washington, D.C. From rigging a few elections to "protect the republic," to exposing the dirty laundry of countless politicians in order to get a bill passed, Olivia has proven time and time again that she's more than just a "fixer," but a powerhouse who is relentless in her pursuit of excellence, always being right and getting sh*t done. With Scandal season 7, the final one, underway, Olivia has taken her trusted white hat off as she ruthlessly continues to kick ass and take names. Now that she practically runs the world (sorry Mellie), faithful gladiators like myself are curious as to how Shonda Rhimes and her talented team of writers will tie everything together for the grand finale. Will her and Fitz finally run away and make a home in Vermont? Will Cyrus take heed to Olivia's advice and begin preparing for his presidential run? Will B-613 implode under Olivia's command and Papa Pope have to reclaim his reign?
To me, what makes Olivia's character so great is that she has no problem with telling someone when they've stepped out of line. Her ability to read someone for filth can come in the form of a simple side eye that snatches your soul, or a 45-second monologue that will have you rethinking your entire existence and feeling empowered at the same damn time.
While there's still plenty of time for Liv to read the hell out of everyone in this final season, here are seven of her most epic reads of all time. Here are just a few from the past seven seasons that we can embrace and celebrate — if for no reason other than to take some lessons for the next time someone you come across needs a read, Pope-style.
1. When she had to remind Jake who TF she was and that sleeping with him was a mistake. (S7, EP 1)
2. The way she tactfully reminded Mellie who was the REAL boss. (S7, EP 1)
3. When she gave Edison the TOP FIVE reasons to never disrespect her (S2, EP 18)
4. The way she gave Luna Vargas the play-by-play on how she was going to die in light of scamming and killing her own husband. (S6, EP 16)
5. When she told Cyrus to man up and stop being a bitch baby. (S4, EP 9)
6. The way she scared two parents straight who were disgustingly trying to blackmail the president's daughter. (S4, EP 4)
7. And finally, how she told Fitz she wasn't his play thing and that he needed to put in WORK. (S2, EP 20)
No matter how hard other shows may try, there will never be another one quite like Ms. Olivia Carolyn Pope. May we cherish this last season of one of the greatest treasures that Shonda Rhimes has blessed us with to date. Hopefully the way Ms. Pope has constantly stood up for herself has left an impression on us viewers, and we can take a few notes from the ultimate girl boss. No matter what "scandal" Olivia Pope gets involved in, she always handles the situation, herself, and other people in a boss bitch way that is always deserving of a slow clap. The series may be drawing to a close, but we'll always have the memories, and the exposing reads, to last us for a lifetime.
Scandal airs every Thursday at 9 PM on ABC.