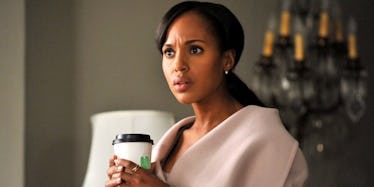 A Major Spoiler For The Next Season Of 'Scandal' May Have Been Revealed
ABC
Hey, Olivia Pope fans, here's a juicy scandal for ya: Kerry Washington is pregnant!
JK, that's not really a scandal at all. The 39-year-old actress is expecting her second child with her husband, NFL player Nnamdi Asomugha. Their first daughter, Isabelle, recently turned 2.
So, no scandal there, but this does mean Kerry's stomach will be growing soon! What does that mean for Olivia Pope?
On "Jimmy Kimmel Live!" on Thursday,  Kerry and "Scandal" showrunner Shonda Rhimes hinted this might mean there's a baby in Olivia's future.
As host Jimmy Kimmel points out, last time Kerry was pregnant while filming, the show went to great lengths to hide her baby bump on camera. This mostly meant strategically placing Olivia's stomach behind objects in scenes.
When Jimmy asked Shonda if she had given any thought on how to handle the pregnancy this time around, Shonda replied instantly,
Yeah. Absolutely.
Unfortunately, that's all Jimmy could get out of her.
Kerry also implied Shonda Rhimes was the first to know the pregnancy news, before even her own parents. When Jimmy asked whom Kerry called first, the actress laughed,
My parents don't want me to answer that question!
So, what do you think, "Scandal" fans? Is Olivia finally going to be a mother?
And... who would the father be?
*GASP* SCANDAL!
Citations: Pregnant Kerry Washington pretends to look shocked as she confirms to Jimmy Kimmel that she's expecting her second child (Daily Mail)