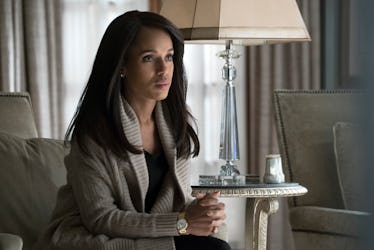 'Scandal' Finale Spoilers Are Here & The Gladiators Are In For A Dramatic End
ABC/Richard Cartwright
Scandal officially wraps its final season on April 19, and with less than a month until the end of the series, ABC has released an emotional retrospective video focusing on the cast saying goodbye to the show. Of course, the video veers away from divulging any major spoilers about the finale, but the cast spilled some slightly less serious Scandal finale spoilers about the characters' fates. No matter what happens, it's safe to say that the Gladiators have dramatic endings in store.
The retrospective clip includes interviews with seemingly every cast member, including Kerry Washington, Darby Stanchfield, Josh Malina, and Tony Goldwyn. Washington summed up just how tight-lipped the cast will remain as the finale approaches, telling the camera:
The only human that's guaranteed to have a happy ending at the end of Scandal is Shonda Rhimes.
Well, that makes me confident about literally nothing.
Sharing their mixed emotions about the series coming to an end, the cast also tossed out their hopes, some serious and some lighthearted, for the characters in the finale. Stanchfield has her fingers crossed for an official definition of Abby's relationship with David, while Goldwyn and Scott Foley are still debating which of their characters, both former flames of Olivia, are a better fit for the leading lady.
Despite the show having such a dramatic storyline, the behind-the-scenes clip shows insight into the cast's goofier moments on set. Skirting around the exact details of the ending, the cast closes the video by thanking the show's fans, aka Gladiators. Washington acknowledged the relationship between the fans and the cast and crew perfectly, saying:
There's the family that you're born into and there [are] families that you find, and this is a family that found me, and I'm really grateful... anytime somebody comes up and says, 'Oh, I loved that show, I watched that show,' I'll say, 'well, thank you for those seven seasons.'
In her May 2017 Shondaland newsletter discussing Scandal's end, creator and producer Rhimes shared about her decision to wrap up the show:
It had begun to occur to us that — warning, warning: swagger alert — shows written by me don't seem to… end. Every show I've created has gone more than 100 episodes. People keep watching. The network is happy. And that's awesome. But what happens if we let all the shows go on and on without end? What if we just hang on so long that people don't say WHY are you ending, but WHEN? What if we don't let anyone say WHEN?
Rhimes' explanation for ending Scandal before she's forced to makes perfect sense, but TV fans love a good cry regardless. Such was the case when the show finished filming earlier this month and Rhimes and her cast took to social media to commemorate the day.
Bellamy Young, who plays President Mellie Grant, even shared a video of the team finishing its very last scene. Apart from a few brief glimpses of other actors, the video seems to mostly focus on crew members hanging out behind the cameras. I get it – crew members are just as important to a show's quality as actors are, but we couldn't get a teeny sneak peek of what was going down in that last scene?
With four episodes left in the season, there's still plenty of time for another major twist to play out on Scandal. The March 15 episode, "The List," promised that the craziness would only continue, and Abby and Olivia even found a chance to get together and literally talk about how insane things currently were for everyone. The cast may be playing it cool, but it's clear that we're in for a rollercoaster ending to Scandal.
Scandal returns on Thursday, March 29, at 10 p.m. ET on ABC.